THE 2005 ARCHIVES
A Year In The Life of Matt Sutton
---
Wednesday, December 28, 2005; 7:49 p.m.
So it's three days after Christmas, and I really want to make a post, but can't really think of anything to say off the top of my head. So I'm just gonna wing it, okay?
Thanks to Santa, I now have more movies I'd like to review. It's all just a matter of working up the motivation. But I've never let that stop me before. I'll work them out sooner or later, one of these days. And after seeing both the original and its remake from the '70s on TV lately, I also have my eye on reviewing all three King Kong movies. I'll wait until Peter Jackson's new remake is released on DVD, so you'll have to wait anywhere from four to six months.
I got Resident Evil 4 for Christmas, and it has to be one of the most addictive games I've played in a long time. There's some sections of the game that are so tough I can't imagine getting past them, but I'm gonna conquer the game. This I vow. I'm also working on the second and third Resident Evil games as well, and I do wish that Capcom had gone the extra mile and updated the graphics like they did with their remake of the first Resident Evil game. It's just sad when you see all these beautiful graphics in Zero, Resident Evil 4, and the remake, and then play the second and third games and see these ugly graphics that look like Xerox copies of the PlayStation 1 games. It's just sad, really.
And that's really all I can think of to say. Sutton out.
---
Saturday, December 24, 2005; 2:04 p.m.
Happy Christmas, everyone. And have a safe one, okay?
Saw a late showing of Fun With Dick & Jane in Danville last night, and it was average at best. There's some funny scenes courtesy of Jim Carrey, but the plot is so disjointed and silly that it really bogs the movie down. The movie doesn't know what direction it wants to go in, so it tries to go in every direction until it just wears itself thin. I'll give Fun With Dick & Jane two stars for Carrey's performance alone, because that's the only real drawing point of the movie. If you don't get to see it, you're not really missing anything.
Sutton out.
---
Wednesday, December 21, 2005; 11:47 a.m.
After seeing it ranked #11 on Bravo's list of the 100 scariest movie moments, I'd been wanting to see the Japanese movie Audition. And thanks to the wonder that is Netflix, I finally got that chance. Directed by notorious filmmaker Takashi Miike, the movie tells the story of widower Shigeharu Aoyama (as played by Ryo Ishibashi). Deciding to put himself back out on the market but unsure of how to meet a woman, a friend in the filmmaking business suggests holding a fake audition to find the right woman. After an exhaustive audition process, Aoyama ends up falling for a meek, mysterious girl named Asami Yamakazi (Eihi Shiina). Everything seems great for a while, but things soon fall apart. In short: boy meets girl, boy dates girl, boy ends up discovering the girl's hellish past, girl brutally tortures boy. It really tugs at the heartstrings, folks.
The movie is wonderfully acted by Ishibashi and Shiina, and brilliantly directed by Miike. The movie rocks the slow burn for nearly an hour, and while those with shorter attention spans may find it boring, it's all a buildup for the horrific finale. So horrific, in fact, that Audition held the dubious honor of the most audience walk-outs ever at its premiere. Although Miike denies it, the movie also makes a social commentary on the stereotypical subservient Japanese bride. We spend the entire movie thinking Asami is a timid, quiet young lady, but by the end of the movie, we see that she's been in charge the entire time. The finale is unrelenting in its desire to torture its viewers, proving why Miike has earned a reputaion in the West as one of Japan's most extreme directors. His odd camera angles, along with the way he has edited the movie, make for a unique method of storytelling. At the end of the movie, scenes we saw in the early going are repeated, only with far different, darker dialogue. This is most likely done to show how far Aoyama's preconceived notions are from the truth. He's so blinded by his affection for Asami that he never realizes just how messed up she is. Miike teases us as well, showing us quick bits that at first make us believe that the horrors are just a dream. But we're soon jolted back to reality, yanked back into the torture of the finale.
Audition is most certainly a movie not made for all audiences. If you're squemish or don't like having your head screwed with, I'd suggest renting another movie. But if you do, go check out Audition. I'll give it a solid three and a half stars and a recommendation.
---
Monday, December 19, 2005; 6:34 p.m.
In other news, we've got one more review for your reading pleasure. This time, it's this year's Johnny Cash biopic Walk The Line. Read and enjoy.
Sutton out.
---
Monday, December 19, 2005; 3:39 p.m.
Did a little tinkering with my links, including adding a controversial friend of the blog. I think you know who I'm talking about. He asked me to make a mention of some of his various writings, and those of you in the know have an idea which writings I'm talking about. If you do know, then check them out. If you're clueless, then maybe you're better off that way. It's the unwritten policy of this blog to stay out of controversy whenever possible, since this blog is a suburb of Happy Land (hi Kristen!), so that's all I have to say about it. If you've got a problem with it, you know how to get ahold of me. Just keep the vitriol off the blog, okay? That's all I ask.
Out.
---
Sunday, December 18, 2005; 12:28 a.m.
We've got another new review for Sutton At The Movies. This time, we have Steven Spielberg's remake of War of the Worlds for your reading pleasure.
Sutton out.
---
Saturday, December 17, 2005; 10:50 p.m.
Kentucky 73, Louisville 61. It's a good day to be a UK fan.
In other news, I caught Peter Jackson's remake of King Kong tonight, and I thought it was outstanding. The only complaints I have about it are the fact that the ship's arrival at Skull Island was so dark, I couldn't tell what was going on (or was that just due to a messed-up projector at the theater I was at?), and that the movie just seemed to drag at times. Did we really need a ten-minute scene of dinosaurs falling down a cliff? They could have easily cut 30 minutes of the jungle scene out, and I doubt it would have been missed. Now I understand why Miramax decided to cut Kill Bill in half, because if King Kong felt too long at three hours, then I'd have been completely worn out after a four-hour movie. In any event, the movie is nothing short of wonderful. And oddly enough, the best member of the cast is the CGI gorilla. The scene where he keeps knocking over Naomi Watts's character during her dance routine is hilarious, and the ending is so heartwrenching that if I'd been alone, I'd have been bawling like a baby. I can't give King Kong anything less than four stars, and I recomend seeing it, for sure.
Sutton out.
---
Wednesday, December 14, 2005; 2:57 a.m.
Not much to report on today, so I think I'll throw out a quickie movie review.
I just finished watching Unleashed, and I liked it a lot. The fights are outstanding, and the acting is a lot better than I expected out of a movie of this style. Morgan Freeman is great as always and Bob Hoskins is wonderfully wicked, but I was really surprised by Jet Li. I'll admit I'm not all that familiar with his movies (though I did think The One was awesome), so I went in thinking he was just some generic martial arts movie guy like Jean Claude Van Damme or Steven Seagal, only Chinese. He really did a spectacular job not only with his fighting scenes, but the scenes that required him to actually act, too. I heard that he wants to quit martial arts movies and so he can concentrate on serious acting roles, and I think he'd be up to the task. Unleashed gets four stars, and a recommendation to check it out.
Sutton out.
---
Saturday, December 10, 2005; 5:35 p.m.
From a big "we miss you" to John Lennon on Thursday, to a big "we miss you" to Richard Pryor today. I can't say I'm surprised, because it was obvious that his multiple sclerosis was getting to him, but it's still a huge bummer. And to mourn, I'd like to highlight my review of Superman III. Yeah, I gave the movie a bad review, but it's the only Richard Pryor movie I have on S@TM.
Speaking of, I promised three new reviews. So while I have your attention, I'd like to direct you to my reviews of Alien, Predator, and Alien vs. Predator. Have fun reading.
Sutton out.
---
Thursday, December 9, 2005; 11:26 p.m.
Instead of seeing Walk The Line again like originally planned, the usual suspects and I decided to head to our old high school, Washington County HS, to see the boys and girls basketball teams play a doubleheader against rival school Marion County. The girls won, but the real action was in the guys' game. The guys lost by ten points (and never lead the game at all), but the student sections representing each school got so involved in the game that I thought there might have been a riot had the game been any longer. They were really into it. And for some reason, everyone in WC's student section decided to stand up for the entirity of the second game. I ended up having to stand up too, for the simple fact that if I didn't, I'd have had to sit right on the court to see anything. But I digress, it could have been worse.
I got that replacement DVD I mentioned a few posts back, and its review should be done in a few days. I know Libby's looking forward to it and the others I was working on, and I hope the rest of you are too. If not, you better have a good reason why.
To borrow a phrase from Walter Cronkite, "And that's the way it is." Sutton out.
---
Thursday, December 8, 2005; 9:05 p.m.
So I was watching Smallville tonight, and decided to jot down a few random thoughts during the show. Do you mind?
The plot for this episode seems awfully familiar. I think one of the show's writers saw that Nicholas Cage movie The Family Man and decided to do an episode like that.
I'm going to join Television Without Pity on the anti-Lana bandwagon. Smallville really needs to poop or get off the pot with their relationship. If she hasn't figured out Clark has superpowers by now, she's dumber than she looks. Maybe I'm just resentful of the fact that they're so obviously going to kill off Chloe, I don't know.
That kid looks like he's four years old, five tops. What's a kid doing in a car seat at that age? Wouldn't he have graduated to a regular seat belt by then?
Hah, Clark runs "faster than a speeding bullet." They've really been going heavy on the old Superman catchphrases lately, though. Or is that just me?
Aw, poor Clark gave up his first Christmas with the girl he's been spying on all his life. He's a Super Peeping Tom, that's what he is.
"Ho ho holy cow!" What a lame line. But funny.
Man, Pa Kent looks like a dork with the glasses and slicked-back hair. Bo Duke would have kicked the crap out of him out of spite.
Lana's dying? Nice way to appease the Television Without Pity folks without really killing her, guys.
Wow, Lionel is a bastard.
Yay! Lana's dead! Now Clark can move on to Chloe, and all shall be right in the world. Oh wait, just a dream. Thanks for teasing me, Smallville.
Oh, that Santa Claus. What a rascal.
So Lana expects it to be the first of many Christmases with Clark? Wait until he moves to Metropolis and hooks up with Lois.
Hooray for Evil Lex. It's about time.
The episode seemed to sit on the fence. I liked the push towards Evil Lex, but outside of that, it was just a filler Christmas episode. Thumbs in the middle. And unfortunately, it's the last new episode until January. I hate all these breaks.
TNA's got a special Thursday episode of Impact coming up in an hour, so I'm going to wrap this up and get ready for that. Until the next post, Sutton out.
---
Thursday, December 8, 2005; 3:55 p.m.
First up, happy birthday Jill! And a great big "we miss you" to John Lennon.
Christmas is in two and a half weeks, so if you haven't finished doing your shopping, what are you waiting for?
Remember me mentioning that I had three new reviews I was working on? Well, you'll have to wait a few days longer. Before I could start on the third review, the DVD of that particular movie that I got from Netflix was cracked (to the point that it was actually broken), so while I wait for a replacement DVD, you're going to have to wait for the reviews. Sorry.
That's all the news that's fit to print for now. I may or may not see Walk The Line again tomorrow, but it all depends on the weather. If I do, I'll be back to once again give my opinions on it. In any event, Sutton out.
---
Thursday, December 1, 2005; 6:43 p.m.
Jiminy Christmas, I need to update this thing more often.
I'm getting tired of the whole layout of this blog because I kinda like Blogger more, but because I'm used to Tripod, I don't know what to do. Besides, I'm not too sure on how to set Blogger's timestamps for backing up my archives. Anyway, what do all three of you readers think? Should I make a move to Blogger, or should The Matt Sutton Experience continue right here at Tripod.com?
The holiday season is upon us, and it seems like it's getting earlier each and every year. It doesn't help that stores put all the Christmas stuff two weeks before Halloween, but hey, what can you do? One of these days, the major retail chains are just going to start selling holiday stuff year-round. They put the Valentine's Day stuff out in the middle of January, they put the Easter stuff right after Valentine's Day, it's a vicious cycle of holiday trinkets and junk. I like holidays and stuff now, but come on.
Out of three movies I wanted to review, two are finished and the third one will be done in the next week or so. There's another one that I'm working on too, but I don't really have a target date for that one. So I'll get that one finished and posted whenever I feel like it.
Okay, so that's all the news that's fit to print. Sutton out.
---
Friday, November 25, 2005; 5:45 p.m.
I hope everyone had a great Thanksgiving, and now it's one month until Christmas!
I saw Walk The Line this afternoon, and it's awesome, definitely one of the best movies of the year. I thought Joaquin Phoenix did a great job as Johnny Cash, but I loved Reese Witherspoon as June Carter. The music and the acting are both superb, and I'll gladly give Walk The Line four and a half stars easily.
Meanwhile, I'm working on three new reviews for Sutton At The Movies. Look for them within a few weeks. You may also notice some of my older reviews are missing, but there's good reason. I was reading some of my early work, and I just wasn't satisfied with them at all. If I'm not satisfied with the reviews, I don't want them on my blog. So until I can get up the motivation to rewrite them, they'll be offline.
That's all I've got, Sutton out.
---
Sunday, November 13, 2005; 4:22 p.m.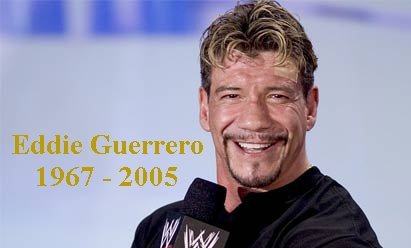 I'd like to take a quick timeout from the normally festive nature of this blog to mourn the unexpected passing of Eddie Guerrero. I lament his death as a lover of the spectacle and the sport that is professional wrestling, but I cannot begin to imagine the heartache of those that knew him personally. I know we wrestling fans are sad because we lost a wonderful performer, but my heart breaks knowing that his three young daughters now have to grow up without their daddy.
Eddie may not have been the most recognizable pro wrestler when compared to names like Hulk Hogan or The Rock or Stone Cold Steve Austin, but I doubt that very few wrestlers are or were as entertaining to watch as him. His time here on Earth may have ended, but the memories he's left behind will never be taken away.
Godspeed, Eddie, and thank you.
---
Saturday, November 12, 2005; 11:10 p.m.
And now for a quickie review...
I caught The Legend of Zorro tonight, and although I'll admit I'm not exactly familiar with the Zorro character (nor did I see the movie's prequel, The Mask of Zorro), I must say that I was entertained. The movie is light on plot, but heavy on very fun swashbuckling action. There's also a great big gaping plot hole too. During the first act, Zorro tries to teach his son that violence isn't always necessary to solve a dispute, it's not mentioned at all in the second act, and in the third act, they totally drop it all together when the movie realizes that acrobatic swordfights are much more fun that guys standing around talking about their problems. The movie also suffers from two of the least interesting villains in recent memory. If they'd had a 19th-century version of The Kingpin (of Marvel Comics fame), then it might have been intriguing. But the two villains from I caught The Legend of Zorro never pose much of a threat at all, and it really bogs down the movie. The action is exciting, and Antonio Banderas and Catherine Zeta-Jones are great together, but the movie is largely forgettable and there really isn't enough going on to justify its too-long running time. It's an entertaining way to kill two hours and ten minutes on a boring Saturday afternoon, but I'll have to give it two and a half stars. Don't get me wrong, it's not the worst movie out there, but there's probably better. Once I see The Mask of Zorro, I'll get back to you on that one.
And am I the only one that thinks that seven years between sequels is pretty long? The Mask of Zorro came out in 1998, and they're just now getting around to releasing the sequel? I know there was quite a long time between each installment of the Terminator trilogy, but come on now. If they'd done this movie in, say, 2000, then it might not have been such a big deal. But I'm not a filmmaker, so what do I know?
That's all, Sutton out.
---
Thursday, November 10, 2005; 12:55 p.m.
Hola, amigos, and welcome. Believe it or not, I have two brand new reviews for you. One is the direct-to-video movie adaptation of Captain America, and the other is Rob Zombie's sophomore venture into filmmaking, The Devil's Rejects. It's a quasi-sequel to House of 1000 Corpses, so you can check that review out too. Have fun reading! Sutton out.
---
Saturday, November 5, 2005; 12:45 p.m.
Once again, I went to the movies. Me and the usual suspects caught Four Brothers at the dollar theater in Danville. Yes, it came out in August, and yes, the theater is just now getting it. They just got The Exorcism of Emily Rose too, so they're a wee bit behind with the current movies. But anyway, back to Four Brothers. It's actually not that bad of a movie. To be totally honest, it's pretty fun. The movie has a nice balance of humor, action, and drama, and the four lead actors are all engaging. I'll give it three and a half stars and a thumbs-up.
Sutton out.
---
Monday, October 31, 2005; 7:47 p.m.
Happy Halloween! To celebrate, I have a few new horror movie reviews for you, my dear readers. So you can check out my reviews for High Tension and the remake of House of Wax, and enjoy. I'd also be remiss if I didn't highlight my review for the one, the only, the classic, Halloween.
You know what's a little harsh? Sitting on my uncle's porch in 40-degree weather helping hand out candy. Yeah. You know, I was supposed to be dressed like Fonzie, but you really couldn't tell I was dressed up at all because I was wearing my regular clothes. Such is the life of being the coolest man alive.
That's all I've got. Happy Halloween, Sutton out.
---
Friday, October 28, 2005; 11:08 p.m.
I just got home from seeing Saw 2, and oh man it ruled. You'll probably want to see the original Saw first to truly appreciate it, but Saw 2 is totally worth seeing. The Jigsaw Killer is just as creepy as he was in the first movie, the traps are just as disturbing, and the twist ending blew me away. It's not one of those crappy twists like The Village, where you see it coming a mile away, but one that is a total surprise. You never see it coming at first, but once you notice all the clues, it's so much fun. And that twist ending totally instills the hope in me that they make more sequels. Because I want to see them! Saw 2 gets four stars, and a recommendation to see it as a fun Halloween movie.
Sutton out.
---
Monday, October 24, 2005; 1:30 a.m.
Howdy folks. I had a new review I wanted to share, and I just couldn't sit on it any longer. And that review is Batman Begins. Check it out, and feel free to check out my reviews for the other five Batman movies while you're at it. There's the one based on Adam West's TV show, Tim Burton's Batman and Batman Returns, and Joel Schumacher's Batman Forever and Batman & Robin. And if you really want to, you can read the review for Catwoman too. Enjoy!
Sutton out.
---
Friday, October 21, 2005; 11:11 p.m.
I wanted to add a couple of quickie movie reviews while I was thinking about them. First up...
The Fog: I saw this on Tuesday, and I thought John Carpenter's version from the '80s was better. But still, I enjoyed the movie for what it was. The jump scares aren't really all that scary (maybe because I caught a 1:00 matinee, and horror movies are scarier at night), but the acting is solid, the effects are good, the premise is neat. I didn't hate the movie, so I'll give it three stars.
Doom: I caught this tonight, and believe it or not, I enjoyed the heck out of it. However, as much as I liked the movie, it's basically like someone saw the first Resident Evil movie and said, "Hey, wouldn't this movie be so much cooler if we replaced Milla Jovovich with The Rock and put the movie on Mars?" Because that's really what it's like. There's almost no plot at all outside of "there's monsters on Mars, and the Marines are going to blow them up," but the movie makes up for it with as much action as it can pack into 90 minutes. The movie isn't exactly the best in the world, and you never really care about any of the characters, but it's still fun as all hell. If you're a fan of the Doom games, then you'll totally love the scene near the end where we get a first-person view of the lead character going on a five-minute rampage armed with a machine gun and chainsaw. I had fun, so three and a half stars.
Sutton out.
---
Thursday, October 20, 2005; 8:17 p.m.
So I'm sitting here watching Smallville, and they've got Aquaman as a guest star this episode. They had Kid Flash on there last season, Aquaman this season, so they'd better have Bruce Wayne on there before they cancel the show or I'm gonna be sad.
Meanwhile, I'm working on a couple of new reviews, and you'll be seeing them soon. Don't let the anticipation tear you apart, dear readers.
That's all. Sutton out.
---
Saturday, October 8, 2005; 2:19 p.m.
I finally got out of the house and did something for a change. I hit up the cinemas, and as promised on Thursday, here's the quickie reviews...
Corpse Bride: Oh man, was this great. I loved every minute of it. The stop-motion animation is spectacular, the voice work is fantastic, and it's just so entertaining. Four stars, and the recommendation to go see it right now.
Flightplan: Where do I begin? When you walk out of the theater totally confused for all the wrong reasons, that isn't good. I had absolutely NO clue why anything in the movie happened at all, and I had to rely to an online spoiler to grasp it. The movie was well-made, and Jodie Foster was really good, but the second half of the movie makes no sense at all. There are a handful of fun red herrings, but when the final revelations are made, it's just a great big disappointment. I'll give it three stars, though if you miss it, don't kick yourself over it.
The trip to the movies also marked a first for me, since I managed to sneak some candy and a drink into Flightplan. Snacks at movie theaters are too expensive nowadays, so a stop at Wal-Mart (for some candy and a 25-cent can of soda) and a baggy fleece sweater saved me a few dollars. And folks, saving money is pretty darn good. I also acquired the DVD of Adam West's Batman movie, proving that Wal-Mart's $5.50 discount bin can be your friend.
That's all I got. Sutton out.
---
Thursday, October 6, 2005; 9:39 p.m.
Not a lot going on in Suttonville lately. I'd be a lot more involved here if I had stuff to do, but eh, what can you do?
We had a county festival last weekend, the last one before they change the name and move it to summer. It wasn't much, but I knew it wasn't going to be all bad when I heard a band playing "Free Bird" as soon as I got into the main part of the festival on Saturday. "Free Bird" = good times. My dad was in the parade, which was neat, and I managed to pick up some DVDs for a really good price too. I scored Saw, White Noise, and The Ring Two on Saturday for $30 (the vendor had a "three for $30" deal), then nabbed The Grudge on Sunday for $10 (though the price tag was marked at $12). I should have picked up Kill Bill 2 while I was at it, but that was all the money I had. Oh well, I can still get that for around $15 at Wal-Mart. Or one of my dear readers could pay a visit to my Amazon wish list, because that works too. :-D But anyway, I got a little sun, some fresh air and good movies, and bumped into some old friends I hadn't seen in a while, so I'd call last weekend a success.
Speaking of, I'm watching The Grudge as we speak, and it's still weird to see Sarah Michelle Gellar cowering in terror when confronted by the demonic hellspawn. I'm so used to her making some lame pun before kicking the bad guy into next Thursday, but I guess that happens when you play a monster killer for seven years.
If you haven't yet, head over to the New Hampshire Joyride and check out the post dated September 29th. I totally rocked out "Dynamite Kudo: The Album," and I just may do Volume 2. I'd have to put some thought into it, but when I do, look out for it. Because it'll rock just as hard as Volume 1.
That's all I've got tonight. But keep an eye open, since I may or may not have some quickie reviews tomorrow. Sutton out.
---
Friday, September 30, 2005; 4:54 p.m.
I got an invitation to my five-year high school reunion today, and I'm debating on whether or not I should go. As much as I'd like to, there's quite a few things stopping me. One is that I've accomplished absolutely nothing since high school. I flunked out of college, I haven't had a job, I have pretty much nothing that resembles an active social life, and I don't even have a driver's license. Plus there's the fact that I had exactly two friends in high school; one of them isn't going because he hated everyone but me, and the other graduated the year before I did, so he can't go. So why would I want to go hang out with a bunch of people that really didn't care much for me to begin with? I'll admit, there are a few classmates that I liked back then, and would enjoy getting to see again. But what about the other 110 people in my class that wouldn't have given me the time of day back then? They've accomplished things. What do I have? I'm a 23-year-old unemployed loser who still lives with his parents. Whoopee.
More on this sometime later, I guess. Out.
---
Wednesday, September 28, 2005; 7:11 p.m.
I don't really have a lot to talk about, so I'll just jot down some quick random thoughts.
I did some editing on my reviews of Batman Forever and Batman & Robin to fix some errors in grammar and spelling, plus I noticed that I didn't even finish some sentences in some places (so I fixed those too). Geez, some Super Saturday that was.
WWE's flagship show Raw ended its run on Spike TV this past Monday, and it'll be on the USA Network next week. At least that gives USA something to air besides Adam Sandler movies, Monk, golf, and Law & Order reruns. And if you weren't around during WWE's first run on the USA Network, get ready for dog shows and the US Open. You'll find out what I mean.
So Buffy creator Joss Whedon made a movie about Firefly, only he called it Serenity. Something about copyright issues. But the thing that gets me is that nobody watched Firefly when it was free, so who's going to pay to see it?
Am I the only person that thinks Arrested Development isn't all that great?
Anyway, that's all the random thoughts I've got. Out.
---
Tuesday, September 22, 2005; 4:27 p.m.
Quick shout-out to my sister, who's 19 today. Happy happys.
I know I haven't exactly been making frequent posts here lately, but there's a perfectly good reason. Okay, so it may not be "perfectly good," but it's the only reason I have. And just what reason is that, you may be asking? I've been busy working on a new review for "Sutton At The Movies," that's why. And since inquiring minds want to know, the movie is none other than The Exorcism of Emily Rose, the heartwarming tale of a young woman who has seizures so severe that those Japanese kids that spazzed out watching Pokémon look like they had a mild shiver. Check it out, and I hope you enjoy it. Was a two-week wait with no posts worth it just for one of my reviews? I hope so, although as always, your mileage may vary.
Not much else is going on for me to talk about, that I know of. I wanted to go see Cry Wolf and Venom, but only one theater within 40 miles is showing Cry Wolf and I don't know of any showing Venom. Word is Venom only at opened at 400 theaters, which is so sparse, I'm surprised it even got a theatrical release at all. Though don't hold me to that last sentence, since I'm not sure exactly how wide its release was. But if you're only going to give a movie full of nobodies a release of just 400 screens, why bother putting any heavy advertising into it? I could understand if it had A-list (or even B-list) talent, but the cast if full of people I've never heard of. The only "name" in the movie I recognize is Method Man, and if the cast list on IMDB.com is any indication, it's just a bit part. That'd make the idea of promoting the movie around him like how Miramax put Drew Barrymore and Jada Pinkett Smith on the posters for Scream and Scream 2. Sure, those two are famous, but getting killed in the first five minutes doesn't put you on the same level as the stars of the show. Makes no sense, if you ask me. But I'm not a big-shot Hollywood executive, so what do I know?
I was doing some reading about X-Men 3, and with a cast as huge as X3's, there's going to be too much room for any character development. If there is, the movie is going to be at least three hours long. Or maybe they just need to trim some fat because the movie is starting to look like War And Peace with mutants. Check out the cast of characters...
Professor Xavier
Magneto
Wolverine
Mystique
Cyclops
Storm
Jean Grey/The Phoenix
Rogue
Iceman
Pyro
Kitty Pryde
Colossus
Angel
Jubilee
Beast
Juggernaut
Leech
Avalanche
Siryn
Omega Red
Gauntlet
Multiple Man
Scarlet Witch
"The X-Kid," whoever that is
Throw in the Sentinels and Moira MacTaggart (and the chance that Gambit may or may not have a cameo), and that's a loaded cast. I know the X-Men series has a huge cast, but how many people want to see some of the nobodies they have listed? I know they want to get as many franchise characters in there as they can, but come on now. I've never even heard of Gauntlet or Avalanche or Leech. If they want to have so many characters, they should just quit doing movies and start a television show instead. I loved the first two X-Men movies, but this sort of thing is why the movies with singular superheroes have a slight edge over them. You get to know and understand them and what's in their heads. Heck, at least there's only four members of the Fantastic Four. But counting Moira MacTaggart, X3 has twenty-five characters. Twenty-five! Even if most of them are only in one or two scenes, that's HUGE. It's why I'm looking forward to seeing the Wolverine and Magneto solo movies, just because they'll actually have room to breathe.
Okay, folks, I'm stuck for things to talk about. Sutton out.
---
Saturday, September 10, 2005; 11:43 p.m.
Hey hey, another quickie review. I saw The Exorcism of Emily Rose this afternoon, and it's something else. Loosely based on the true-life story of Anneliese Michel, the movie is quite different in that the titular Emily Rose (played by Jennifer Carpenter) isn't even the main character. She's like Keyser Soze from The Usual Suspects, where she drives the plot despite never really being around. Instead, the movie focuses on an attorney (Laura Linney) trying to acquit Emily's priest (Tom Wilkinson) of manslaughter charges stemming from Emily's botched exorcism. The film is a bizarre amalgam of The Exorcist and an episode of Law & Order, though it doesn't truly get into a groove until the third act. We never really learn much about Emily as a person prior to her possession, there's a subplot that goes nowhere after a couple of scenes, and all that camera shaking during the exorcism scene made my head hurt, but the movie is pushed by some awesome performances from its cast. Everyone in the cast does a good job, especially Jennifer Carpenter. Her screen time is limited and she doesn't have much dialogue outside of some Latin phrases and a mighty crapload of screaming, but she's very effective. Is Emily schizophrenic? Is she possessed? Either way, she's absolutely freaky. The movie is also aided by a tense, chilling score by Christopher Young. I hope that the movie's DVD has a music-only track, just so I can crank it up at Halloween and scare the pants off people. But when it's all said and done, I'm going to give The Exorcism of Emily Rose three and a half stars, and that's that. Sutton out.
---
Thursday, September 8, 2005; 10:58 p.m.
Once again, welcome to Blog-asy Island, I'm your party host Ricardo. I went to the doctor last week, and all he did was suck blood out of my neck. Don't go see Dr. Acula.
God, I hope people get that joke. And if they do, I hope they think it's funny.
I really can't think of much to talk about, but I do have a new review up: the Tom Cruise/Jamie Foxx flick Collateral. Good movie, and I hope you like the review.
That's all I got, Sutton out.
---
Wednesday, August 31, 2005; 1:56 a.m.
Howdy, howdy. It's me again, and I have another short mini-review for you. This time, it's The 40-Year-Old Virgin. I caught a 4:45 showing of it yesterday, and I enjoyed it a lot. Steve Carell is absolutely brilliant, and the supporting cast is hilarious as well. There wasn't a moment where I wasn't laughing my head off during the movie, which is how I like my comedies. Four stars for The 40-Year-Old Virgin, and a recommendation to see it.
There isn't a whole lot going on to speak of, outside of the fact I'm happy to see all this rain. While I'm sorry that it had to come at the expense of the southeast portion of the country, the drought we've been having here as of late needed to stop.
So that's all. Sutton out.
---
Monday, August 22, 2005; 7:27 p.m.
Hey, hey. It's been awhile. Just blame it on a lack of anything interesting to say.
When you're a night owl like myself, weird things tend to entertain you at 5:00 in the morning when you're delirious from no sleep. For example, reruns of Body By Jake. For you unfamiliars, Body By Jake is a 30-minute workout show hosted by a man who can be described as a cross between Sylvester Stallone and fitness guru Tony Little. I turned that show on and watched for a good ten minutes before I fell asleep. Body By Jake: Sutton's surefire cure for insomnia.
Thanks to IFC, I've now seen two slasher movies that have gained some minor popularity among slasher movie fandom. April Fool's Day was actually enjoyable (with a twist ending to end all twist endings), but having caught a glimpse of the bottom of the genre's barrel in Slumber Party Massacre, I don't know if I want to delve any further into the slasher realm. Thanks for trying, Slumber Party Massacre, but I think I'll just stick to Freddy and Jason. No hard feelings, or anything like that. April Fool's Day gets three stars, Slumber Party Massacre gets one and a half stars.
You know, I really can't think of anything else to talk about... with the exception of one thing. I have a brand new review for Sutton At The Movies, and it's a doozy. You asked for it, you got it. The new review: none other than Sin City. Go read it. I can wait.
Okay, done reading the review? You're back? Good. Now comment! I dare you! Sutton out.
---
Monday, August 8, 2005; 12:33 a.m.
A new month, two new movies to do mini-reviews of. Trust me, folks, there's not much more going on outside of this.
Open Water: Thank you, Netflix. Shot with almost no crew and only $130,000 to spend, this tale of two scuba divers stranded in the middle of the ocean is as minimalist as they come. The DV cameras they use make it seem like a home video, especially when you remember that they used real sharks to swarm around the actors because they couldn't afford to create CGI or animatronic sharks. Owing much more to Cube and The Blair Witch Project than Jaws, the movie is actually relatively light on action until the final 20 minutes, but the movie is actually pretty fast-paced. But if you don't want to see two people floating around for most of the movie, you could probably just skip to the end.. Speaking of the end, the movie has one of the most daring endings I've seen in a long time. Without giving it away, the end of the movie is just so bleak, but it's still acceptable. It's not one of those endings that makes no sense and ruins the whole movie, it's actually one of only two possible endings they could have done. With the two choices, I like the one they went with. Since the movie is quite similar to Cube and The Blair Witch Project in terms of execution, those who were left underwhelmed by those movies probably won't like Open Water. The dialogue is silly at times (though I really liked the "I wanted to go skiing!" line), and the acting can be hammy, but in the scope of things, the movie is actually pretty good. Three and a half stars for Open Water, and I'd recommend giving it a chance.
The Dukes of Hazzard: I know, I know. The movie has been getting nothing but bad reviews since before it came out. But you know what? I liked it. While the movie might not be built on the strongest of foundations, I was still entertained. I go to movies to be entertained, so in that aspect, I'll call The Dukes of Hazzard a success in my eyes. Screw the naysayers, I know what I like. The script could have used some polishing, and the movie could benefit from two or three casting changes (primarily those playing Boss Hogg and Daisy Duke), but I had fun watching it. And really, isn't that all that matters? Johnny Knoxville and Seann William Scott were funny, the chase scenes are exciting, and the soundtrack is awesome (outside of Jessica Simpson's embarassingly bad cover of "These Boots Are Made For Walkin'"). Only fans of the show will really enjoy it, but despite its shortcomings, I'll give it a thumbs-up. Three stars.
And holy crap, the theater was packed with a capital P on Friday night. Me and my buddy Mo were intending to see the 7:30 showing of The Dukes of Hazzard, but just our luck, it sold out. But lucky us, we got in for the 10:00 show (which was equally packed). The place was absolutely full of teenybopper idiots with an average age of 14. The place looked like an Abercrombie & Fitch catalog had thrown up on a junior high field trip, and they all had cell phones. What does a 14-year-old kid need a cell phone for? Who are they gonna call? Barney the purple dinosaur? Big Bird? The Power Rangers? I might be out of touch with the youth of America (which is sad, since I'm only 23), but come on. And it was so weird, because I saw 3000 kids, five parents. How do they get there? Walk? Hitchhike? Do they have those transporters from Star Trek? Geez... I'm 23, and I've turned into Mr. Wilson from Dennis The Menace. I guess it's time to pack it in. That's all for now, Sutton out.
---
Sunday, July 31, 2005; 12:26 a.m.
Wow, this week flew by quickly, and I decided to wrap it up by checking out some flicks. First up...
Stealth: I saw this one late Friday night, and I didn't expect all that much out of it. The commercials and trailers didn't impress me, but then I went in and actually had a good time. Maybe it was winning two rounds of air hockey before the movie, I don't know. Stealth didn't make a single bit of sense in the end, but I'm a Friday The 13th fan, so I had no problem detaching my brain over the course of the movie. But as far as silly action movies that make no sense go, Stealth isn't horrible and it isn't wonderful; it's somewhere in the middle. I'll give it three stars, though I'd probably recommend either downloading it or waiting until it hits the local cheap theater.
Dark Water, the Japanese version: I saw this one via the wonder that is Netflix, and I enjoyed it a lot. While I feel that the American remake is superior, I still found Dark Water: Japan to be an entertaining movie. The performances are good, and tension abounds (especially towards the ending). At the climax's summit, tell me your skin doesn't crawl when they show the evil ghost. However, what I didn't like about the movie is that the evil ghost's intentions aren't exactly clear until the end. While a villain with unclear intentions can be scary if done properly, the execution here is confusing. I'll be honest: I wouldn't have known what the ghost wanted I hadn't seen the remake, no joke. But regardless, I liked Dark Water: Japan, and I'll give it three and a half stars.
That's all I have for the current moment. Sutton out.
---
Thursday, July 28, 2005; 9:24 p.m.
The funeral was today, and things were a little better. Me, my sis, and our cousins were the pallbearers, and I actually held together. I thought for sure I was going to lose it, but I'm okay. I'm actually worried more about my dad, aunt, and uncles than anyone else, because they're her kids. They'll have the most to bear. But I believe things will start to cheer up around here sometime in the next week. I hope, anyway.
Sutton out.
---
Tuesday, July 26, 2005; 11:26 a.m.
Ninety percent of the time, when it comes to this blog, I keep my personal life personal. I'm a shy person by nature, so it's hard for me to really open up. But I'm gonna open up a little bit, for a change.
My grandmother Laura was born on December 3, 1912. The proud mother of four kids (an aunt, two uncles, and my dad), she was like a second mother to me, helping raise me and my sister while our mom worked nights. My grandma's a very special person, not just to the family, but to almost everyone who knew her. She was the family's matriarch, our den mother, the biggest root on our family tree. And here comes the bad news. A little over two hours ago, we said goodbye to my grandmother. I can't say I didn't see it coming, because she'd been sick for a while, but it's still killing me up inside. I lost one of my best friends today, and I don't know how to handle it. I thought that if I just went without acknowledging it, I'd be okay. Out of sight, out of mind. But when I actually faced it, I just broke down inside. I'm not strong enough to cope with this. I've got to be, but I'm not, and I'm afraid. Part of me actually thought my grandmother would be around forever, and the realization that she's gone... it hurts. A lot.
I really don't know what else there is for me to say. I'm not good at this "opening up" thing. Feel free to send prayers or good vibes towards central Kentucky, because we could use them.
(FYI: If you notice a change here, I edited the original post a few hours after posting it. I wrote it when I was in a nasty mood and felt like changing once I lightened up. I'm better now.)
---
Saturday, July 23, 2005; 4:41 p.m.
I saw The Devil's Rejects last night, and if you're a fan of 70's exploitation movies, you should see it right now. Despite being a sequel to House of 1000 Corpses (well, more of a spinoff, really), you only really need to see the previous movie if you want a better understanding of the movie's main plot point. The Devil's Rejects is its own monster, a monster that can be very disturbing at times. Its violence is like The Passion of the Christ only without Jesus, and the majority of the film's nudity is downright uncomfortable. The acting is engaging from start to finish, the effects are both disgusting and wonderful, and the music is superb. On the topic of music, the songs in the movie are each used to excellent effect, especially Lynyrd Skynyrd's "Free Bird" in the movie's finale (which also works as my favorite scene in the movie too). The Devil's Rejects also benefits from some very sound direction by Rob Zombie, who makes his second venture to the director's chair here. The movie has some very slick scene transitions and fun off-kilter editing choices, along with both humor and horrific moments in its script. The Devil's Rejects is visceral, unforgiving, and raw, and I couldn't love it more. They don't make movies like this anymore, but they should. Four stars, and a hearty seal of recommendation. My biggest complaint about the movie was the group of jackass teenagers sitting in front of me who spent more time talking and giggling and playing with their cell phones, as opposed to watching the movie they just paid $6.25 to see. Two ushers actually came down and told them to shut up or get out, and they actually left five minutes before the credits rolled. Next time I go to the movies on a Friday night, I'm taking a two-by-four and cracking some skulls if that happens again.
I was at a family reunion at my grandma's house earlier, but with a combination of the heat and my feet killing me, I had to leave early. I feel really bad about leaving, since I very rarely ever get to see any of my extended family, but me and heat don't get along very well. Now if the reunion had been held in, say, spring or fall, I'd have been there all day, no questions asked. C'est la vie, I guess.
Back on the topic of movies for a second, I saw rented The Crow: Wicked Prayer via Netflix and watched it Thursday night. It actually isn't too bad. It pales in comparison to the first one (as do the other sequels), but it's enjoyable. Three stars for the fourth Crow movie.
And that's all I have. Sutton out.
---
Saturday, July 15, 2005; 1:03 p.m.
Ladies and gentlemen, the waiting is over. You guessed it, today is Super Saturday! I mentioned some time back that I was working on an ultra-update for Sutton At The Movies, centered around a particular theme. I wanted to keep the theme of the ultra-update a secret, but over time, some of you found out what it was, and what some of the movies within the update were. But now, the wait is over, and it's time for me to reveal the posts to the world. With two high-profile comic book adaptations getting released this summer (Batman Begins and Fantastic Four, for those who are out of the loop on these things), I've decided to do a mass update of comic book adaptations.
The full list is...
And to round out Super Saturday, three superhero reviews I've already done...
I tried to limit myself to superhero comics, so if you wanted to see reviews of Ghost World, Road To Perdition, or From Hell, I apologize. I am, however, considering a "Super Saturday 2" sometime in the future, because there were quite a few movies I was forced to cut as I was rushing to make my previous deadline. But before "Super Saturday 2" goes from an idea to reality, I'm thinking taking a break from reviewing for a couple of months. After doing almost twenty reviews as quickly as I have, I've just gotten burned out. But don't worry, dear fans. I'm not out of the game for good.
But enough of my blabbering, start clicking and reading! And for those of you keeping count, this officially pushes my total number of reviews to 102. Go me! :)
---
Friday, July 15, 2005; 5:27 p.m.
I finally got a chance to see Napoleon Dynamite yesterday, and all I can say is that it was different. It felt like it was just a big series of skits strung together with a threadbare plot, but it had quite a few funny moments. I'd don't know if I'd call it a purchase, but it's definitely a rental at the very least. Thumbs in the middle, leaning up. Three stars. And am I the only one that got an "Uncle Rico is a child molester" vibe?
---
Wednesday, July 13, 2005; 3:20 a.m.
Hi, everybody! ("Hi, Dr. Nick!") I'd like to start by wishing friend of the blog Krissie Moore a happy belated birthday. Happy 19, Kris, and don't take no crap from no hurricanes.
I caught both Dark Water and Fantastic Four last night, and I have to say that I was entertained by both. So let's get to the mini-reviews...
Dark Water: This little gem is similar to The Ring, in that they're both ghost stories drawing inspiration from a book written by Kôji Suzuki and a Japanese movie directed by Hideo Nakata. But that's where the similarities end. Dark Water is everything that The Ring Two should have been: suspenseful, brilliantly acted, and just downright spooky. The movie doesn't rely on cheap scares or musical stingers to frighten its audience, instead opting to use its atmosphere and creepy ambient tones. The direction and cinematography are brilliant, and the acting is extremely well done. Jennifer Connelly is great, and gives what I felt to be one of the best horror movie performances in a long time. The film shows her character's descent into madness, and the movie never really answers if it's the haunting or her own mental scarring that are driving her insane. The cast's other highlight, eight-year-old Ariel Gade, is both creepy and adorable as Connelly's daughter. I really enjoyed Dark Water, and will gladly give it a solid four stars.
Fantastic Four: I'll admit, I'm not a follower of the Fantastic Four mythos, so I didn't exactly know what to make of it at first. I'd heard the bad reviews (such as Roger Ebert giving it only one star out of four), so I went in thinking, "It can't be any worse that Roger Corman's Fantastic Four can it?" The good thing is yes, it IS better than the old Fantastic Four movie. But is it any good? Well, that depends on your own personal outlook. I personally thought that it was a good intro to the powers of the Four and Dr. Doom, but it didn't really tell much of a story. The movie could have benefited from being twenty minutes longer. We're dropped right into the movie mere minutes before the fateful space trip that gives our lead characters their powers, and it's as if the filmmakers expect us to jump right in and expect us to be familiar with the characters from frame one. What are their backgrounds? How did they get to where they are? How are we supposed to believe that they're a family if we never really establish that dynamic? I'm not a reader of the comics, I don't know these things. I understand they want to avoid wasting time by getting to their powers quickly, but a little character introduction is nice too. The cast all do good jobs with what they're given, with my personal favorites being Michael Chiklis and Chris Evans as The Thing and The Human Torch. Much of the movie's comic relief comes from their interaction (or just Evans by himself), and that made the movie far more enjoyable that it probably had any right to be. The acting is give or take (though I thought Chiklis, Evans, and Jessica Alba were all really good), though I felt the Alicia Masters character (played by Kerry Washington) was underused. She's supposed to be pivotal in the Thing's development, right? It's kinda hard to be pivotal when you're only in one scene. But in spite of its glaring flaws, I had a good time watching Fantastic Four, and I'll give it three and a half stars. But as always, your mileage may vary.
I'll close by saying this... Super Saturday is coming soon. Get the word out there, folks.
Sutton out.
---
Wednesday, July 6, 2005; 1:00 p.m.
Nothing much to report on today, except that I caught a 10:00 showing of War of the Worlds last night. I wouldn't suggest going to see the movie for Oscar-caliber acting or a well-written script or anything like that; War of the Worlds is all about effects-driven mayhem and destruction. While the movie is light on common sense, it makes up for it with action. However, where the movie fails is the ending. I don't mean how the alien army is defeated at the end (which is faithful to past adaptations of the H.G. Wells novel), but rather something that I don't want to spoil. I've got a self-written rule that I try not to give away a movie's ending here (unless it's unbelievably insulting like The Village or just plain bad like Identity), but there was one little bit that was just so implausible that I'm gonna have to cry "shenanigans" on it. And am I the only one who's absolutely sick of Dakota Fanning? She's in every single movie that's come out during the last three years, and in War of the Worlds, she's beyond irritating. All she did was scream, whine, cry, and complain, and she was seemingly always doing something to make sure the aliens saw where they were hiding. I was just waiting for someone to either leave her behind or tell her what the five fingers said to the face ("slap!"). They could have used her to kill all the aliens too. Let them abduct her, and she'd have annoyed the aliens until they all committed suicide. Outside of the grating Ms. Fanning, I enjoyed the cast. Tom Cruise is good and Justin Chatwin is acceptable as Cruise's angst-filled son, but perhaps my favorite member of the cast is Tim Robbins. Despite being in only one portion of the movie, I thought Robbins's "I'm crazy and I'm gonna kick some alien butt" character was quite intriguing, but keeping him limited was probably the best course of action.
One reviewer on IMDB.com has said that the movie was the best alien invasion movie ever made until the third act, at which point the movie tries to shoehorn itself into various summer action movie clichés. I'm inclined to agree, because the movie's vibe changes significantly once Cruise stops acting like the aliens are cosmic exterminators and starts acting like he's going to conquer them one tripod death machine at a time. But all in all, I thought War of the Worlds was a rather exciting way to kill two hours and see stuff go boom. Despite a rather lackluster final few moments, I'll give War of the Worlds four stars. My opinion may change upon a second viewing, but that's how I feel about it right now.
And that's all the news that's fit to print. Sutton out.
---
Monday, July 4, 2005; 3:13 p.m.
Happy fourth of July, America. And to the rest of the world, happy Monday.
I saw Land of the Dead on June 25th in Frankfort, and I've got mixed feelings regarding it. I thought the performances were good (especially from John Leguizamo and Dennis Hopper) and the gore effects and makeup work are awesome, but the movie just didn't have the same gritty low-budget feel as the three prior movies in George Romero's "Dead Quartet." The lack of that grit causes the movie to lose some of the charm that the other three movies had. The movie also loses the feeling of claustrophobia the others had. While Land of the Dead is a quite different beast than its three predecessors, the claustrophobic "no way out" feeling could have made Land of the Dead a lot different. Don't get me wrong, I did like Land of the Dead, and I felt it was the closest realization to Romero's first draft of Day of the Dead as we'll ever get (unless someone remakes Day and uses that original draft as their template). I'll give Land of the Dead a solid three and a half stars out of five.
Meanwhile, I've been working on a particular project for months, and mentioned it a few times right here at this very blog. I gave myself a July 4th target date to post it, but it looks like there's been some complications. I really hate to do this, but it looks like I'm gonna have to give myself an extension. I really wanted to get it done by today, but there's a movie or two that I want to finish, and I'd rather have the project complete. I plan on posting them on a Saturday, so the big day will be dubbed "Super Saturday." When that Saturday will be, it all depends on when I finish the final review. It might be next Saturday, the Saturday after that, a Saturday two weeks from now... but trust me, it'll happen. So start telling your family, your friends, your dog and/or cat, your neighbors, and that little old lady who lives down the street and doesn't even know what the Internet is, because Super Saturday is coming soon. I promise.
And that, my friends, is all. I've got a Twilight Zone marathon on the Sci-Fi Channel calling my name, so I'm gonna wrap it up. Sutton out.
---
Monday, June 20, 2005; 1:13 a.m.
Happy belated Fathers Day to all you dads out there.
Caught Batman Begins on Saturday afternoon. What makes it different from the four previous Batman movies is that it's actually a movie about the title character. The other four primarily focus on the villains, but where Batman Begins succeeds is actually putting us inside the head of Batman. He goes from being a superhero defending his city to a man who lost his family and seeks to wipe out the crime that took them away. It wasn't about the villains this time around, it was about the evolution of Batman. The movie really goes inside Bruce Wayne's head and shows us why (and how) he became Batman, and the struggle he had coping with the loss of his family. When he finally does become the caped crusader, the action moves fast and furious. Christian Bale is awesome, and is actually more than just a guy in a rubber suit like his predecessors. He's actually a person in there for a change, and he's likeable in both halves of his dual role. However, the movie fails in presenting us with Bruce's love interest. Katie Holmes is does a respectable job, but her character seems superfluous. However, I will say that Bale and Holmes have a wee bit more chemistry than she and Tom Cruise, but that's not saying much. I was also disappointed in the lack of development in the Scarecrow character, but I guess that's the price you pay. And am I the only one who got a kick out of the "I'm Batman" bit and the setup for the sequel? Four stars easily for Batman Begins, and a full review will be coming once I acquire a copy online.
That's all the news that's fit to print. Sutton out.
---
Friday, June 17, 2005; 4:09 p.m.
Here's the results of the 2005 MTV Movie Awards...
BEST MOVIE: Napoleon Dynamite
BEST MALE PERFORMANCE: Leonardo DiCaprio, The Aviator
BEST FEMALE PERFORMANCE: Lindsay Lohan, Mean Girls
BREAKTHROUGH MALE PERFORMANCE: Jon Heder, Napoleon Dynamite
BREAKTHROUGH FEMALE PERFORMANCE: Rachel McAdams, Mean Girls
BEST ON-SCREEN TEAM: Lindsay Lohan, Rachel McAdams, Lacey Chabert, & Amanda Seyfried, Mean Girls
BEST VILLAIN: Ben Stiller, Dodgeball
BEST COMEDIC PERFORMANCE: Dustin Hoffman, Meet The Fockers
BEST MUSICAL PERFORMANCE: Jon Heder's "election dance" in Napoleon Dynamite
BEST FRIGHTENED PERFORMANCE: Dakota Fanning, Hide And Seek
BEST KISS: Rachel McAdams and Ryan Gosling, The Notebook
BEST ACTION SEQUENCE: the destruction of Los Angeles in The Day After Tomorrow
BEST FIGHT: Uma Thurman vs. Daryl Hannah in Kill Bill, Volume 2
ACHIEVEMENT AWARDS: Tom Cruise and The Breakfast Club
Anyone who says Lindsay Lohan is better than Uma Thurman or that Napoleon Dynamite is better than Spider-Man 2 and The Incredibles is a damn dirty liar!
Sutton out.
---
Monday, June 13, 2005; 5:55 p.m.
It's official: child molestation is legal in the state of California. Thanks for finding that out for us, Michael.
In other, happier news, today is someone's birthday. Twenty-five years ago today, Paramount Pictures released a low-budget movie with a cast of unknowns, and it went on to become an indelible part of '80s pop culture. That film is none other than Friday The 13th. Happy birthday, Jason, ya big lug.
I went and caught the late showing of The Longest Yard on Thursday night, and it's great. I know I'm two weeks behind the times, but I planned on seeing it by hook or by crook. Chris Rock is hilarious, Adam Sandler is great, but many of the funniest scenes involved the supporting cast. I'd have no clue who most of them were if you told me, but I thought they were wonderful. And even though they're pro wrestlers and not actors, I really liked Kevin Nash, Steve Austin, Bob Sapp, and Bill Goldberg. Nash getting loaded full of estrogen pills is funny, I don't care what anybody says. Three and a half stars for the remake of The Longest Yard.
Meanwhile, watching wrestling with a six-sided ring on TV is one thing, but experiencing it live is another. I caught an indy wrestling show on Saturday, and they used a hexagonal ring that made them at least look very professional, as opposed to the cheap homemade ring that was used by the previous promotion that occupied the building. The new promotion also seemed very similar to Ring Of Honor in nature, with an emphasis on a more technical/high-flying product. (There weren't any ROH guys there, since it was all local guys.) One match went at least 20 minutes away and was awesome, but only ended when one of the wrestlers apparently blew out his knee after missing a corkscrew moonsault. The other was a "fan's choice" battle royal, where a new wrestler would enter every so often and at random moments, the emcee would call a timeout and have the fans choose (via the volume of their applause) who they wanted to eliminate from the match. One guy entered fourth (out of ten or twelve, I think), and went at least a half-hour. He spent most of the match getting the crap kicked out of him, but he ended up making the biggest splash. He got the (relatively sparse) crowd behind him with a huge flip over the ropes onto two guys on the floor, and started hitting crazy flying moves like it was going out of style. It ended up with him and another guy as the final two, and they spent at least ten minutes hitting some of the most insane spots I'd ever seen. Said flip-over-the-ropes guy ended up winning, because anyone who can hit a standing shooting star press with a 360-degree twist deserves to win a match or two.
And that's all I have. Sutton out.
---
Sunday, June 5, 2005; 2:55 a.m.
Since I don't really have a whole lot to talk about, I'll do some quickie movie reviews.
Madhouse: I saw this direct-to-video flick after my little sister Bet added it to her Netflix list, and my oh my is it a good one. The basic plot of this hidden gem is that somebody or something is killing the residents and employees of a mental hospital haunted by the ghosts of the past, and a college student interning there (played by Blair Witch Project star Joshua Leonard) is trying to get to the bottom of it with some cryptic assistance from an enigmatic resident of the schizophrenic ward in the building's basement. Directed by Texas Chainsaw Massacre III cast member William Butler, the movie not only proves that at least one Blair Witch Project cast member can actually get work, but proves that you don't need a theatrical release to have a good horror movie. The movie is a giant mishmash between a "whodunit" thriller, a typical slasher movie, and a haunted house movie, and it surprisingly works. Josh Leonard is wonderful in the lead role, showing that he has acting ability beyond getting mad at a foul-mouthed shrew following him around the woods with a camcorder. Jordan Ladd is likable and engaging as Leonard's coworker and love interest, and Natasha Lyonne is stellar (yet sadly underutilized) as a mental patient who perhaps knows a little too much. The film has some genuine shocks and scares, and although the twist at the end may leave you saying "I think I saw that coming," it's still less predictable than The Village. Madhouse gets three and a half stars and a vote of confidence.
Cellular: This was another Netflix viewing, and it was... well, it was okay. The movie starts quickly enough, as a group of armed men break into Kim Basinger's house and kidnap her for reasons known only to them. They throw her into some attic in the middle of nowhere and smash the phone, but she's able to put some of the phone's pieces back together. But since the keypad is nonexistent after the goon busted the phone, Basinger has to do some fancy hotwiring and get the phone to dial a random number. She ends up reaching Chris Evans's cell phone, and urges him to help her any way he can. Naturally, he's skeptical, but he stays on the line with her after he hears one of her kidnappers threaten to kill her family unless she cooperates. The movie goes from one improbable twist to another until a policeman preparing for his retirement (William H. Macy) gets curious and begins investigating. Cellular is one big thrill ride, no matter how little sense some of it makes or how improbable it seems. The movie can't decide if it wants to be a comedy or a drama, which ends up hurting it in the long run. However, the acting performances are sound, and the movie's fast pace never allows it to get boring. As with Natasha Lyonne in Madhouse, cast members Jessica Biel and Eric Christian Olsen were sadly underused, which caused their subplots to go nowhere. However, I can understand why they were rarely seen, because they would have just taken away from the main narrative. As a whole, I'll give Cellular three stars. It's worth a rental as an easy way to kill 95 minutes, but outside of that, it's just kinda average. You're not missing much if you don't see it.
And this has been Sutton Briefly Goes To The Moves, signing off. Sutton out.
---
Sunday, May 29, 2005; 2:00 p.m.
The weekend has just dragged on and on and on and on, to the point where I actually think I'm losing days somewhere in there. Friday lasted forever, as I had to deal with both a toddler that my mom babysits who's in her terrible two's, and made a trip to Lexington to boot. Picked up a new pair of shoes at a yard sale, a Punisher T-shirt, the WWE game "Day Of Reckoning" for my Cube, and the DVDs of Wrestlemania 21 and the first season of Viva La Bam. Stuff costs too much money nowadays. And today, I ended up hating the summer even more. We had a little festival today in town (which ended up being a giant yard sale), and my allergies got to me. One eye swelled shut, I sneezed until I thought my nose was gonna fall off, and I ended up with a sunburn too. And people wonder why I like winter so much.
But guess what? It's my freakin' birthday! I'm twenty-three years old today, and my vow for this year is that I'm actually gonna do some living for a change. You heard it here first.
And since it's a special day, I'm gonna take the time to thank my very special sponsors...
The University of West Alabama
Dynamite Kudo and all those at F.O.E.T.
The Bureau of Paranormal Research and Defense
Wolfram & Hart, Attorneys At Law
Angel Investigations
Wayne Enterprises
Xavier's School For The Gifted
the super troopers at the Vermont State Highway Patrol
Dingoes Ate My Baby
Wyld Stallyns
CKY
HIM
The Boar's Nest
Project Mayhem
The Deadly Viper Assassination Squad
Troma Entertainment
Toho Films Ltd.
Extreme Championship Wrestling
That's all I've got. Sutton out.
---
Thursday, May 19, 2005; 9:23 p.m.
Well, that's just peachy. I just found out today that CBS cancelled Joan of Arcadia, so I guess that means two things. One, my Friday schedules are now clear. Two, unless the show comes back, I'll only be watching CBS dur ing the month of March. The other eleven months out of the year, screw those guys.
On second thought, I take that whole "my Fridays are free" thing back. InsidePulse.com is reporting that UPN is moving SmackDown to Fridays starting this summer, and with Smallville apparently moving to Thursdays next season, I'll have my same regular TV viewing schedule as long as That 70s Show doesn't get cancelled.
Anyway, just felt like rambling. Sutton out.
---
Friday, May 13, 2005; 1:13 p.m.
It's Friday the 13th! So put on your hockey mask, grab your machete, and have a great time at the lake!
---
Sunday, May 8, 2005; 3:42 p.m.
Wow, it's already been a week since I last posted? I should post more often, otherwise this whole blog thing will never take off.
MTV recently announced the nominees for this year's MTV Movie Awards, and since I'm wont to post these things, here you go.
BEST MOVIE

Kill Bill, Volume 2
Napoleon Dynamite
Spider-Man 2
Ray
The Incredibles

BEST MALE PERFORMANCE

Jamie Foxx, Ray
Will Smith, Hitch
Brad Pitt, Troy
Matt Damon, The Bourne Supremacy
Leonardo DiCaprio, The Aviator

BEST FEMALE PERFORMANCE

Lindsay Lohan, Mean Girls
Uma Thurman, Kill Bill, Volume 2
Hilary Swank, Million Dollar Baby
Rachel McAdams, The Notebook
Natalie Portman, Garden State

BREAKTHROUGH MALE PERFORMANCE

Tim McGraw, Friday Night Lights
Jon Heder, Napoleon Dynamite
Zach Braff, Garden State
Tyler Perry, Diary Of A Mad Black Woman
Freddy Highmore, Finding Neverland

BREAKTHROUGH FEMALE PERFORMANCE

Emmy Rossum, The Day After Tomorrow
Rachel McAdams, Mean Girls
Ashanti, Coach Carter
Elisha Cuthbert, The Girl Next Door
Bryce Dallas Howard, The Village

BEST ON-SCREEN TEAM

Lindsay Lohan, Rachel McAdams, Lacey Chabert, and Amanda Seyfried, Mean Girls
Craig T. Nelson, Holly Hunter, Sarah Vowell, and Spencer Fox, The Incredibles
John Cho and Kal Penn, Harold & Kumar Go To White Castle
Vince Vaughn, Christine Taylor, Stephen Root, Justin Long, Alan Tudyk, Joel Moore, and Chris Williams, Dodgeball
Will Farrell, Steve Carell, Paul Rudd, and David Koechner, Anchorman

BEST VILLAIN

Tom Cruise, Collateral
Alfred Molina, Spider-Man 2
Ben Stiller, Dodgeball
Rachel McAdams, Mean Girls
Jim Carrey, Lemony Snicket's A Series of Unfortunate Events

BEST COMEDIC PERFORMANCE

Antonio Banderas, Shrek 2
Dustin Hoffman, Meet The Fockers
Will Ferrell, Anchorman
Ben Stiller, Dodgeball
Will Smith, Hitch

BEST MUSICAL PERFORMANCE

Jennifer Garner and Mark Ruffalo dance to Michael Jackson's "Thriller" in 13 Going On 30
Will Farrell, Steve Carell, Paul Rudd, and David Koechner sing "Afternoon Delight" in Anchorman
John Cho and Kal Penn sing along with "Hold On" by Wilson Philips in Harold & Kumar Go To White Castle
Jon Heder's "election dance" in Napoleon Dynamite

BEST FRIGHTENED PERFORMANCE

Cary Elwes, Saw
Sarah Michelle Gellar, The Grudge
Jennifer Tilly, Seed of Chucky
Mya, Cursed
Dakota Fanning, Hide And Seek

BEST KISS

Rachel McAdams and Ryan Gosling, The Notebook
Natalie Portman and Zach Braff, Garden State
Gwyneth Paltrow and Jude Law, Sky Captain And The World of Tomorrow
Jennifer Garner and Natassia Malthe, Elektra
Elisha Cuthbert and Emile Hirsch, The Girl Next Door

BEST ACTION SEQUENCE

the destruction of Los Angeles in The Day After Tomorrow
the subway battle in Spider-Man 2
the Beverly Hills plane crash in The Aviator
the Moscow car chase in The Bourne Supremacy
the desert terrorist assault in Team America: World Police

BEST FIGHT

Uma Thurman vs. Daryl Hannah in Kill Bill, Volume 2
Brad Pitt vs. Eric Bana in Troy
Ziyi Zhang vs. the emporer's guards in House of Flying Daggers
the battle of the news teams in Anchorman
You know, I can't really make decent predictions because I haven't seen half of these movies. And most of the ones I haven't seen, I don't really care if I see them or not. If I don't see Garden State or The Notebook, I won't really be torn up or anything. Screw those movies. And I'll say it right here and now: the only reason Napoleon Dynamite got so many nominations is because MTV produced it. I have yet to see it, so I can't really say if it deserved its nominations, but come on.
That's all I have. Sutton out.
---
Sunday, May 1, 2005; 4:44 p.m.
Look! Up in the sky! It's a bird, it's a plane... it's just me. Sorry to get your hopes up.
So I caught the Amityville Horror remake both on Monday afternoon and Thursday night, and my one word review is "eek." I thought the whole "let's explain everything" moment at the end was a little contrived and didn't really contribute anything to the movie, but other than that, it wasn't too bad at all. As usual, Ryan Reynolds stole the show. I was so used to seeing him as this hammy comedic guy, but then he turns into this abrasive psycho that thinks his family is crazier than he is. There's some fun scares, and I'll give it three and a half stars. As soon as I get around to seeing the original movie all the way through, full reviews will be forthcoming.
You know that little indy wrestling promotion I've talked about a lot? Sadly, they apparently had their final show last night. I don't know what I'm going to do on my weekends now, unless I start following one around the state or another promotion starts in that particular building. If it wasn't over an hour away, I'd start going to OVW's television tapings regularly.
Anyway, there's nothing else to report. Sutton out.
---
Sunday, April 24, 2005; 11:55 p.m.
Hey folks, it's me again, back to terrorize y'all's neighborhoods.
I hate having allergies. Hate. I'm using the word "hate" to describe how I feel about my allergies. I can't stop scratching my eyes, and it sucks. People wonder why I prefer fall and winter, and that's your answer.
I was watching They Live on AMC on Thursday night, and I'll be damned if that's not one awesome movie. Show me someone who doesn't enjoy the fight scene even in the slightest, and I'll show you a person who doesn't know art when they see it.
I was discussing this with Libby the other day, and I've thought of something I'd like to do whenever I feel motivated enough to do it. I watch a lot of movies that I'd like to review, but I either don't feel like doing a whole review, or there's already a bunch of potential reviews that are in front of it. So I'm thinking of the occasional quick shot movie reviews. I could stand to have more content anyway.
That's all I got. Sutton out.
---
Sunday, April 17, 2005; 3:33 p.m.
You might have noticed a wee little change to the title of this here blog, loosely inspired by (or ripped off from) one Libby Von Lane. Thanks for the inspiration, Ms. Von Lane. And if you ever see "undefined" in the taglines, I don't know what that's about. That's not one of my taglines. I think it's just a script error or something.
Thank God it's spring. I usually like winter, but winter sucked this year. Everybody was getting several feet of snow, and I got nothing but rain. Lots and lots of rain. This past winter can bite me.
Want to know embarrassing? Imagine having the top rope of your wrestling ring break and nearly injure someone while the state athletic commission is in attendance. I was at an indy wrestling show last night, and one of the turnbuckles just snapped while someone was standing on the top rope during a match. And the funny thing is, I discovered after the show that the top rope was just a garden hose wrapped in yellow electrical tape. Folks, this is probably the most bush league wrestling ring I've ever seen. Garden hose ropes, a mat made of just thin pieces of canvas held together with duct tape, and it's only ten-by-ten. That's tiny by most industry standards.
The recent crop of post-Wrestlemania firings by WWE has really surprised me. Some of the firings have been so insane. Why Molly Holly? Why Matt Hardy? Molly Holly had a good reason to ask for her release (since they've done nothing but embarrass her since the Chris Nowinski thing a few years ago), but her leaving only makes the women's division that much weaker. When your women's division consists solely of three wrestlers (one of whom is very injury-prone) and a Playboy model, you'd probably better off hiring women who can wrestle or just retire the belt. And I don't like Matt Hardy's firing one bit. Sure, him airing his dirty laundry all over the Internet for God and everybody to see might not have been in his best interests, but the guy just had his heart broken. He probably wasn't thinking straight. That's no reason to fire him. They could have just moved him from Raw to Smackdown, then he would have only seen Edge and Lita no more than five or six times a year. Meanwhile Rhyno getting fired for doing something that should have earned just a warning is a little harsh. It isn't like he was beating his wife or smacking around a cop in the hotel or anything. Though Rhyno at least has a shot at returning, since I doubt WWE would want to do their ECW reunion show without ECW's last champion.
Though WWE finally did something good for a change: promoting MNM from OVW. Being a fan of MNM, I'm really happy they got called up. And if you don't think Melina's slide under the bottom rope is cool, check your pulse. After their debut, it looks like we'll be seeing MNM vs. Eddie Guerrero and Rey Mysterio at the next PPV. As long as Johnny Nitro busts out some of those standing shooting star presses and twisting moonsaults he was doing in OVW, I won't complain.
That's all I've got. Nothing witty or entertaining is popping into my head. Sutton out.
---
Monday, April 11, 2005; 1:44 p.m.
Yeah, folks, it's me. Nice to see you too. Did you miss me? No? Why not?! Great, now you made me cry. I hope your happy. Jerk.
I really don't have anything to talk about, so why don't I just shoot the breeze a little while? Is that okay with you? It's not? Too bad, fignuts. I'm the one with the microphone, and you will listen to every damn word I have to say! Yes, I've seen The Wedding Singer, thanks for noticing.
I was watching Miss Congeniality yesterday (for the first time, I might add), and I came to the following conclusion: William Shatner is awesome. Dispute it all you want, but it's the absolute truth.
I downloaded Sin City a few nights ago, and while I've only watched bits and pieces of it so far, it's definitely the bee's knees. I wish I could see it on the big screen, but I'll take what I can get until the DVD is released. I plan on doing a review of Sin City for "Sutton At The Movies," so you can look forward to that. Meanwhile, you can enjoy my review of The Ring Two. I also gave my review of the previous Ring a little touchup, and you can read that here.
I hear that Sony is working on the PlayStation 3 now. If it's compatible with PS2 games, I might as well start buying the games instead of saving up for a PS2. Stupid game consoles. I think I'll just stick with Nintendo. Speaking of Nintendo, I really need to look into getting some new games. What sucks is that they're fifty bucks a piece, sometimes more if they're rare. If you can find the Gamecube versions of Resident Evil 2 or Resident Evil 3, you'll have to sell a kidney to afford them. It's insanity. There's always the "Player's Choice" line, but I don't like waiting eight to ten months for a game to drop down to 15 bucks.
So that's all I've got. Sutton out.
---
Thursday, April 7, 2005; 4:44 p.m.
I need to start posting more often, but I just have nothing to say. I'll have to work on that.
Is it just me, or does not having enough money suck? I was at a Joseph Beth bookstore today, and I saw a good number of graphic novels I wanted, yet couldn't afford. Frank Miller's Sin City books, the Essential Punisher, and a hardcover edition of the "Welcome Back Frank" Punisher series were all calling my name, yet I had to tell them no. Oh well. I should be coming into a little money come my birthday next month, so maybe I can acquire them then. Sounds good to me.
One more Wrestlemania is in the books. I don't think it was one of the all-time classics, but it was fun in its own way. My own personal highlight was Hulk Hogan's appearance. Though he didn't hit the big legdrop, I was marking out like I was a kid again. I don't know if the show was worth 50 bucks, but I had a good time watching it, and Hogan, Piper's Pit, the HBK/Angle match, and the ladder match made it all worth at least 35 bucks. And now I guess we can start counting down to Wrestlemania 22. Mark your calendars, folks: April 2, 2005, in Rosemont, Illinois.
I've got nothing else. Sutton out.
---
Tuesday, March 29, 2005; 1:30 p.m.
Look at Earth there, spinning around the universe like it owns the place. It thinks it's so cool. We'll see how cool it thinks it thinks it is when I unleash my evil pyramid scheme of damnation! How ya like me now, Earth? Huh? How ya like me now?
Hey look, a new review is among the ranks. Want to know what it is? Do you really? Truly? Okay, you sound sincere enough, so I'll tell you. It's the one and only cocaine-fueled Cuban gangster movie Scarface. And folks, the late great Rick James said it best: "Cocaine is a hell of a drug."
Wrestlemania 21 is in less than a week. Anybody want to give me 50 bucks?
Am I the only one who would want to see Fox do a remake of the Buffy The Vampire Slayer movie to tie it into the show? Sure, Sarah Michelle Gellar and Kristine Sutherland would probably be the only TV show cast members in the movie (unless they decided to throw in Michelle Trachtenberg if they went with the "fake memories of Dawn" angle), but a remake could be a better introduction to the show than Kristy Swanson's Buffy movie. I don't know if I'd believe Sarah Michelle Gellar as a 15-year-old high school sophomore, but hey, most of the Beverly Hills 90210 cast were in their 40s, weren't they? So in short, I'd be up for an SMG Buffy prequel if Fox and Joss Whedon decided to do it. And you'd be up for it too, don't lie.
I was watching the "Smile Time" episode of Angel last week, and the more I watch it, the funnier it gets. A bleached-blond vampire with a bad British accent fighting a brooding vampire puppet in a law office is high comedy, folks. If you ever get the chance to see "Smile Time," take that chance.
I was reading some reviews of various Asian movies, and I landed on one for a movie called Ichi The Killer. The movie centers around a Yakuza hitman that's into S&M bondage, as he tries to recover 1,000,000 yen stolen by his boss's rival. And thanks to some nasty scars on his face, he can blow cigarette smoke from holes in his cheeks. From reading the review, the movie sounds almost too crazy, even for me. I can handle the American Mafia, but those Yakuza guys are insane! You don't screw around with the Yakuza.
Am I the only one who's tired of those Boost Mobile commercials with the rappers singing into their cell phones? I can't go a day without seeing it at least twice. I'm not a huge rap fan anyway, and the general crappiness of the commercial makes it really grating on the ol' nerves.
Okay, guys, that's all I've got. Be here next time, same Bat time, same Bat channel.
---
Sunday, March 20, 2005; 12:38 p.m.
You're not gonna believe this, but I actually went out and saw a movie Friday night. I know, I never do that. I'm as shocked as you are. But anyway, I managed to get out of the house and see The Ring 2, and it was something else. It wasn't as good at first, and there were some parts that just plain didn't make sense, but it was definitely something else. It isn't as good as the previous Ring, but comparing The Ring 2 to The Ring is unfair. The sequel is a completely different beast than its predecessor. I'd probably have to see it a second or even third time to really get its vibe. With movie ticket prices the way they are, I'll probably just download it in a few weeks and save myself $6.50. Money's tight around the Sutton household, so piracy might be the way to go.
But I'm getting off-track. I really can't go too into detail without spoiling anything, but both Naomi Watts and David Dorfman are both great. Dorfman's character is creepy as hell (just like in the first Ring), and Watts once again holds the movie together by not only doing the "curious reporter" routine from The Ring, but adding a little "concerned mother" too. Like I said, the previous Ring is the more superior one of the two, but Ring 2 failed to disappoint. Three and a half stars for The Ring 2.
I was reading my review of The Incredibles, and I thought of something. How many people get the Isadora Duncan reference in the review? I know my mom does, I know Libby does (after I explained it to her), but I'm just curious as to how many heads that went over. And I'll be honest with you: I actually had no idea who Isadora Duncan was myself, until I read Roger Ebert's review for The Incredibles, and it was just so obscure, I had to make mention of it too. Thanks for helping, Mr. Ebert, but I still haven't forgiven you for Beyond The Valley Of The Dolls.
The more ads for it I see, the cooler and cooler Sin City looks.
You diehard wrestling fans out there might remember two episodes of Raw that featured "Raw Roulette." You might even remember when Raw Roulette was WCW's "Spin The Wheel, Make The Deal." Well, I've been thinking about Raw Roulette, and I think it could be a neat gimmick to center a pay-per-view event around. I'm a mark for themed PPVs (like Taboo Tuesday, the Survivor Series, the Lethal Lottery), and a show made up of random gimmick matches would be fun. Maybe WWE could even dust off WCW's old "Uncensored" PPV name, just as long as they don't book a King Of The Road match. That was a neat concept, but the execution could have used work.
Speaking of gimmick matches, I'm just waiting for WWE to rip off TNA's Ultimate X match. But then again, that would mean WWE would be putting their cruisers in a show-stealing match. And we can't have that, can we?
That's all the news that's fit to print, and I have nothing else to say that is either relevant or true. Sutton out.
---
Thursday, March 17, 2005; 2:14 p.m.
Okay, so I have some good news and I have some bad news. The good news is I haven't heard anything from that stalker in over a week, and I'm beginning to enjoy the peace and quiet. But I don't want to jinx it, so I'd better just shut up. The bad news is... well, I don't have any bad news to report. So hooray for that.
Add one more movie to "Sutton At The Movies." This time, I decided to review a cartoon and came out with The Incredibles. Check it out, if you please.
You'd think that with Kentucky and Eastern Kentucky playing each other in the first round of the NCAA tournament that it'd tear the state in half. But guess what? Even EKU is rooting for Kentucky. They're probably doing that because they know they have absolutely chance in hell of actually beating Kentucky. And you know what? They don't.
That Visa commercial featuring the Marvel characters started out as really amusing the first dozen or so times I saw it, but now it's lost its novelty. But that Underdog cameo is good stuff.
You know the rumors that Quentin Tarantino might direct the next Friday The 13th movie? Turns out he turned New Line down. He'd rather work on Inglorious Bastards and his next kung fu movie instead, and that really sucks. Quentin Tarantino Presents Friday The 13th, Part 12 would have been awesome.
That's all I've got. Sutton out.
---
Thursday, March 10, 2005; 6:06 p.m.
Welcome back, friends and enemies, to the blog that never sleeps. My stalker is starting to really piss me off. Some of you know the story, some of you are hearing it for the first time. But here's the situation.
Back in January, my dad keeps telling me about this twenty-something coworker of his that's single and desperate for a man. I mean, she's asked out single guys, married guys, gay guys, straight guys. She wants a man and she wants one bad. Shortly after he starts talking to me about her, the phone calls began. The first few times, it was okay. I had no problem with that. But then she started calling two or three times a day. I ended up going out with her once, hoping she'd leave me alone after that. Despite being visibly uncomfortable being out with her, she didn't stop there. I somehow ended up out with her a second time. And the phone calls have gotten more and more annoying. She's started saying "I love you," and has told me to tell her the same even if I don't mean it. She apparently thinks I'm her boyfriend, despite me having corrected her. She's "joked" that she likes to peep in my windows. She's said that she wants to move in and live in my bedroom. She's said she'd beat up my sister for no reason. And she even said (hopefully jokingly) that she would marry me. I want to tell her to sod off, but I'm scared she'd pull a Fatal Attraction on me and boil some of my pets.
Okay, long story short, a psycho loves me. Isn't that lovely? My description really doesn't do the insanity justice. All I need to do is work up the courage to tell her to buzz off. Maybe I should just block her phone number and hope she gets the hint. Yeah... I kinda like that idea. Let's see how she likes THAT.
Life feels... I don't know, different lately. I can't quite put my finger on what the difference is, but something's up. Maybe it's the loony lover. Maybe it's that general case of the blahs that comes and goes. I don't know what my problem is. Eh, maybe I'll figure it out sooner or later. I can't be clueless all the time, can I? No, I can't be. Things are gonna improve around here, believe you me.
Okay, on to other subjects. I'm sure 99.9% of you have heard about the Matt Hardy/Lita/Edge love triangle. If not, you're either not a wrestling fan or just don't care, and I figure I might as well throw my two cents in too. With all the "Lita's a slut" stuff Trish was throwing out in the aftermath of her pregnancy storyline, you'd think Lita would be out to get some righteous vengeance and retribution in order to retain some kind of dignity. But then it turns out that she really IS a slut. And like Libby said at her blog, she got off pretty light on Raw when compared to the vitriol that Edge got. So I guess WWE hasn't adopted the "Lita = homewrecker" outlook that everyone else has. Matt's got every right to be upset and heartbroken, though. If you were dating someone for the better part of a decade and discovered that your significant other was sleeping around with a close friend, you be a little miffed too.
Have you heard the rumors that Quentin Tarantino might direct the next Friday The 13th movie? Now you have! "Quentin Tarantino Presents Friday The 13th, Part 12." Sounds awesome to me.
These "Fair Enough" antismoking ads are so stupid. I'd start lighting up out of spite if I wasn't allergic to cigarette smoke.
You know, I really need to start going out and doing more stuff. I'm starting to bore myself with my various incoherent ramblings, so either I need to go out and do stuff, or just find something new to ramble about. I've noticed I've been repeating myself a lot more lately, and I could definitely stand to expand my discussion horizons, unless I get distracted by something else.
That's all I've got for now. Sutton out.
---
Tuesday, March 8, 2005; 6:54 p.m.
Welcome back, friends, for this quickie update. Just wanted to post the new review for "Sutton At The Movies," this time for Matthew Broderick's Godzilla. Sutton out.
---
Monday, February 28, 2005; 6:29 p.m.
There's a brand new review for mass consumption at Sutton At The Movies! Huzzah! This time, it's the recent thriller Saw. Check it out,
Speaking of movies, the Oscars and Razzies were this weekend, and if you haven't seen the winners already, here they are. First up, the Oscars.
BEST PICTURE: Million Dollar Baby
BEST ACTOR: Jamie Foxx, Ray
BEST ACTRESS: Hilary Swank, Million Dollar Baby
BEST SUPPORTING ACTOR: Morgan Freeman, Million Dollar Baby
BEST SUPPORTING ACTRESS: Cate Blanchett, The Aviator
BEST DIRECTOR: Clint Eastwood, Million Dollar Baby
BEST ANIMATED MOVIE: The Incredibles
BEST ART DIRECTION: The Aviator
BEST CINEMATOGRAPHY: The Aviator
BEST COSTUME DESIGN: The Aviator
BEST EDITING: The Aviator
BEST DOCUMENTARY (FEATURE-LENGTH): Born Into Brothels: Calcutta's Red Light Kids
BEST DOCUMENTARY (SHORT SUBJECT): Mighty Times: The Children's March
BEST FOREIGN MOVIE: The Sea Inside (Spain)
BEST MAKEUP: Lemony Snicket's "A Series of Unfortunate Events"
BEST MUSIC (SCORE): Jan A.P. Kaczmarek, Finding Neverland
BEST MUSIC (ORIGINAL SONG): "Al Otro Lado Del Río" by Jorge Drexler, from The Motorcycle Diaries
BEST SHORT FILM (ANIMATED): Ryan
BEST SHORT FILM (LIVE ACTION): Wasp
BEST SOUND EDITING: The Incredibles
BEST SOUND MIXING: Ray
BEST VISUAL EFFECTS: Spider-Man 2
BEST SCREENPLAY (ADPATED): Sideways
BEST SCREENPLAY (ORIGINAL): Eternal Sunshine of the Spotless Mind
And now the Razzies...
WORST PICTURE: Catwoman
WORST ACTOR: George W. Bush, Fahrenheit 9/11
WORST ACTRESS: Halle Berry, Catwoman
WORST SCREEN COUPLE: George W. Bush and either Condoleeza Rice or his pet goat, Fahrenheit 9/11
WORST SUPPORTING ACTOR: Donald Rumsfeld, Fahrenheit 9/11
WORST SUPPORTING ACTRESS: Britney Spears, Fahrenheit 9/11
WORST DIRECTOR: "Pitof," Catwoman
WORST REMAKE OR SEQUEL: Scooby Doo 2: Monsters Unleashed
WORST SCREENPLAY: Catwoman
Am I the only one that thinks it's stupid that Fahrenheit 9/11 won all these acting awards? It's a documentary! It's like watching a home movie and saying how horrible the acting is. I guess the Razzie folks took it upon themselves to make some kind of a political statement instead of actually judging real movies. And what does Britney Spears have to do with Fahrenheit 9/11 anyway? I haven't seen it, so could someone fill me in?
That's all I've got, Sutton out.
---
Saturday, February 26, 2005; 2:06 p.m.
Hello, I am Torgo. I watch the place while the master is away.
Caught Cursed last night, and it wasn't too bad of a movie. I've seen a lot better, but I've seen a lot worse, Unfortunately, it was so obviously cut down from an R-rating, it was almost distracting. Christina Ricci carries the whole movie on her shoulders, which is good because the whole rest of the cast is just kinda "meh." You can tell the movie's been jerked around for a while now, because Ricci works for The Late Late Show while it was still hosted by Craig Kilborn. Sure, it's not really that big a deal, but I'm a stickler for weird things like that. And somehow Scott Baio, Mya, and Shannon Elizabeth end up in the opening credits. They didn't serve any purpose. Mya's only in three scenes, Elizabeth's dead within the first 15 minutes, and Chachi's only in a handful of scenes (and barely has any dialogue at all). They seem like just an excuse to have big names (or washed-up names in Chachi's case) draw in audiences, despite their characters being meaningless fodder. But regardless, three stars for Cursed.
I had a fun surprise in the mail yesterday afternoon. Some stuff I ordered back in October and November from the street team for the Dawn of the Dead remake finally arrived, and it's about flippin' time. I scored a miniature poster, and a neat coffee mug featuring the logo of the fictional mall from the movie. Even if I had to wait three or four months, the stuff was free, so I won't complain. That's one of the few things I actually learned in college. Free stuff = good,
Wednesday night's episode of Smallville made absolutely no sense. Lana and Lex get tortured by the Chinese government, Lana gets possessed by a long dead witch that somehow is related to her Chinese ancestors, and she has a swordfight with Clark straight out of Crouching Tiger, Hidden Dragon. These kind of episodes make me pine for the time when every episode had some random "freak of the week" that would try to kill Lana while Clark is all angst-y over being an alien in love with Lana and Chloe plays Nancy Drew. Stupid Smallville.
For those interested, I'm working on a massive update for "Sutton At The Movies." So massive, in fact, that the target date for these reviews is July 4, 2005. I wanted to do a review of Roger Corman's Fantastic Four, but I could barely watch it. It's so awful, I think it gave me cancer. I've watched a lot of bad movies, but this is beyond bad. It's almost insulting how bad it is. But I'm dedicated to both my craft and my readers, so I might just sacrifice the brain cells so you don't have to. Sutton At The Movies: Where The Readers Are #1,
That's all the news that's fit to print. Sutton out.
---
Sunday, February 20, 2005; 6:29 a.m.
Hit a deer last night. Went into shock. That's really all I can say before I start freaking out again. It was a very, very bad experience that I never want to relive. If you're an animal lover and you hit a deer with your vehicle, just keep on driving. Don't get out of the car and look at it. I did, and you don't want to see what I saw. That messed me up in the head,
Via the wonder that is Netflix, I finally got to see the classic Mystery Science Theater 3000 episode "Manos: The Hands of Fate." Generally considered to be one of the worst movies ever made (which translates into one of the funniest MST3K episodes ever), the DVD I received from Netflix unfortunately (or perhaps fortunately?) didn't have Manos without the MST3K treatment. There's two Manos DVDs out there: one with and without the MST3K version, and one with only the MST3K version. I got the one with just the MST3K version. No big deal, it's not worth worrying about. But even in watching Manos with the joke-cracking silhouettes, it's still painfully obvious how awful the movie is. And the awful quality of the movie just makes the show that much funnier. So here's my mini-review...
Manos: The Hands of Fate = Bad.
Mystery Science Theater 3000 watching Manos: The Hands of Fate = Good.
How's that for a review, huh?
Minor swag update: the DVD of Godzilla, starring Matthew Broderick. It's not the best Godzilla movie out there, but I think it's a fun movie if you look at it as a movie starring a random atomic dinosaur instead of Godzilla. Anyway, I also scored the Ready To Rumble DVD last month, and I still think WWE should run one of those three-tiered cage matches sometime. If it wasn't for the Elimination Chamber (and the fact that Ready To Rumble was a tremendous failure), I could see it happening. They could do a repeat of "War Games 2000" from an episode of Nitro (the one from September 4, 2000). Hang a title belt from the roof of an arena, stick a bunch of guys in the ring, and the first one make it out of the bottom cage with the belt wins. Maybe it could become to Smackdown what the Elimination Chamber has become to Raw. I'm sure the triple cage is collecting dust in some old WCW storage warehouse in Atlanta, and WWE should break it out sometime. They could even break out the "Doomsday Match" setup from the Uncensored '96 pay-per-view event, where they had a bunch of normally-sized cages stacked on top of each other and stuck ten guys in it. The doomsday match sucked, but it was still a neat concept. And I'm still waiting for WWE to book a War Games match...
That Starburst commercial where they parody Lionel Richie's "Hello" music video is... well, how do I put this... disturbing. If I made a model of some girl's head out of chewy fruit-flavored candy and bit its nose off, I'd be thrown into a straightjacket and hauled away by men in white suits.
Nothing else to say, Sutton out.
---
Monday, February 14, 2005; 1:37 p.m.
I hate being sick. I loathe it. Despise it. I've felt so horrible all weekend, and I'm all out of cold medicine, so I'm gonna have to tough it out. Plus I'm sick, and I have a stalker-in-training after me. Life is peachy. </sarcasm>
Valentine's Day can bite me. I blame Hallmark for this stupid day, Personally, I prefer "Half-Off Valentine's Day Candy" Day (you know, February 15). That's way better.
There's been some minor cosmetic surgery done at "S@TM". See if you can spot the differences!
I miss the local '80s radio station. See, there was a radio station I listened to all the time, and they played nothing but music from the '80s, But a few months ago, they up and changed the format to classic rock without warning. I have no problem with that, but there's like three zillion classic rock stations in Kentucky, and now zero '80s stations. Bummer. :(
The flu has fried my brain, and this is all I have to say. Sutton out,
---
Sunday, February 6, 2005; 3:15 p.m.
Man, I haven't done a "real" post in a while. It feels like forever. Blame it on not having anything to say, I guess. That happens sometimes.
It looks like my last "Sutton At The Movies" update got an enthusiastic reaction from at least one person, which is nice. I like having fans. I'd also like to start doing something other than horror movies for "S@TM," and I figure I'll get around to it eventually. A boy's got to expand his horizons once in a while. I've got my eye on a few movies to review, but I just need to work up the motivation. I'm surprised I actually got those last five reviews done, to be honest. There's some I could stand to redo, too. Some of my early ones are rather anemic, though I consider my very first review (Friday The 13th) to be one of my best. I'm definitely proud of it, for sure.
So WWE has booked a barbed wire cage match between JBL and The Big Show for the No Way Out show in a few weeks/ Why put the barbed wire on the cage at all? Since it'll be at the top of the cage, JBL and Big Show will have to be incredibly stupid and/or brave to try and climb out. Methinks the only way it would come into play is if one of them had wire cutters and cut some pieces of the wire off to use. And I'd really rather not see those two guys climb a cage.
I got a chance to visit the local nearest bookstore on Wednesday (and by "nearest," I mean a 45-minute drive). Unfortunately, their comic book rack is rather weak. Maybe six different comics, all released by DC. Three or four Batman comics, a JLA comic (where apparently, the JLA is comprised of robot versions of the superheroes), and a Superman comic. I think I saw Teen Titans and Catwoman comics in there too. And no graphic novels, either. Needless to say, I doubt I'll be going there to satisfy my comic desires. It'd be nice to have some comic book stores around here, but no, I have to live over an hour away from any place that would even come close to selling them. I seriously need a Borders to move in near here. You've got me jealous, Libby. Real jealous.
Netflix is a glorious, glorious thing. I definitely recommend it if you have the disposable income. I got The Grudge via Netflix a few days ago, and I really need to buy it. Sure, I saw a lot of the scares coming (which happens with repeat viewings), but it was still insanely scary. The first big scare, the one with the attic at the very beginning, still makes me jump. Great movie, and I stand by my original review. I'd like go get around to reviewing Ju-On too, and I easily recommend that one to fans of The Grudge and Asian movies in general.
You know where the worst place to have a fire would be? The factory that makes those trick birthday candles. That would suck. "Okay, fellas, it's out. Let's get out of here... aw, crap. Alright, everybody, make another wish and blow harder this time."
I caught Duran Duran performing "Hungry Like The Wolf" on Carson Daly's talk show, and wow. Simon LeBont turned into Meat Loaf now, and it's scary. Meat Loaf LaBont. Think about that one and tell me it doesn't spook you.
IMDB.com has Amy Acker (Fred/Illyria from Angel) listed as a cast member for the upcoming Texas Chainsaw Massacre prequel. I did a little research, and all the support for that I can find are rumors from back in June. I was (and still am) a fan of the Fred/Illyria characters, and if she's in the movie, good. Besides, she's cute and Texan, and a cute Texan in a Texas Chainsaw Massacre movie is okay with yours truly. If she shows up with blue hair and uses god-like powers to knock Leatherface into next week, that'll be just as fine.
I caught Boogeyman on Friday night. With the exception of the repetitive "let's scare the audience by making them go deaf" jump scares (you know the ones), I really liked it. Three and a half stars. I also picked up a free mini-poster for Hide And Seek at the theater too. I haven't seen Hide And Seek, but I dig movie posters. It boosts my current movie poster count to seven: Friday The 13th, A Nightmare on Elm Street, Freddy Vs. Jason, Rocky, Army of Darkness, How To Deal, and now Hide And Seek. I think I've got the posters for Blair Witch 2 and American Outlaws floating around here somewhere too.
Am I the only person not interested in the Super Bowl? I'd probably just watch for the commercials and to see if Janet Jackson's other breast would show up. That whole thing was so stupid. "Justin Timberlake ripped off part of Janet's top! We're so outraged! That should never be on TV, so we're going to replay it 5,000,000 times to enforce the point! That's how outraged we are!"
I'm so exhausted, mentally and physically. I'm surprised I haven't ceased to function at this point. It's been really rough lately. Situations with my family are making me crazy, there's some new people in my life that I'd like to avoid and can't ("coming on strong" is an understatement), and my poor little brain just can't wrap itself around all this insanity that's going on. I wish it would just stop. I just want things to go away and leave me alone. I need a break. Sutton out.
---
Wednesday, January 26, 2005; 11:44 p.m.
I promised an update for "Sutton At The Movies," and I'm going to keep that promise. I've got you reviews for The Crow, The Butterfly Effect, Ginger Snaps Back, The Punisher (circa 1989), and The Punisher (circa 2004). Ginger Snaps Back is the third part of a trilogy, and you can read the reviews for the first movie and the sequel too.
The Oscar nominations are out, so being the huge movie geek I am, I might as well post the nominees...
BEST PICTURE

The Aviator
Finding Neverland
Million Dollar Baby
Ray
Sideways

BEST ACTOR

Don Cheadle, Hotel Rwanda
Johnny Depp, Finding Neverland
Leonardo DiCaprio, The Aviator
Clint Eastwood, Million Dollar Baby
Jamie Foxx, Ray

BEST SUPPORTING ACTOR

Alan Alda, The Aviator
Thomas Haden Church, Sideways
Jamie Foxx, Collateral
Morgan Freeman, Million Dollar Baby
Clive Owen, Closer

BEST ACTRESS

Annette Bening, Being Julia
Catalina Sandino Moreno, Maria Full of Grace
Imelda Staunton, Vera Drake
Hilary Swank, Million Dollar Baby
Kate Winslet, Eternal Sunshine of the Spotless Mind

BEST SUPPORTING ACTRESS

Cate Blanchett, The Aviator
Laura Linney, Kinsey
Virginia Madsen, Sideways
Sophie Okonedo, Hotel Rwanda
Natalie Portman, Closer

BEST DIRECTOR

Clint Eastwood, Million Dollar Baby
Taylor Hackford, Ray
Mike Leigh, Vera Drake
Alexander Payne, Sideways
Martin Scorsese, The Aviator

BEST ANIMATED MOVIE

The Incredibles
Shark Tale
Shrek 2

BEST ART DIRECTION

The Aviator
Finding Neverland
Lemony Snicket's "A Series of Unfortunate Events"
The Phantom of the Opera
A Very Long Engagement

BEST CINEMATOGRAPHY

The Aviator
House of Flying Daggers
The Passion of the Christ
The Phantom of the Opera
A Very Long Engagement

BEST COSTUME DESIGN

The Aviator
Finding Neverland
Lemony Snicket's "A Series of Unfortunate Events"
Ray
Troy

BEST DOCUMENTARY (FEATURE-LENGTH)

Born Into Brothels: Calcutta's Red Light Kids
The Story of the Weeping Camel
Super Size Me!
Tupac: Resurrection
Twist of Faith

BEST DOCUMENTARY (SHORT SUBJECT)

Autism Is A World
The Children of Leningradsky
Hardwood
Mighty Times: The Children's March
Sister Rose's Passion

BEST EDITING

The Aviator
Collateral
Finding Neverland
Million Dollar Baby
Ray

BEST FOREIGN MOVIE

As It Is In Heaven (Sweden)
The Chorus (France)
Downfall (Germany)
The Sea Inside (Spain)
Yesterday (South Africa)

BEST MAKEUP

Lemony Snicket's "A Series of Unfortunate Events"
The Passion of the Christ
The Sea Inside

BEST MUSIC (SCORE)

John Debney, The Passion of the Christ
James Newton Howard, The Village
Jan A.P. Kaczmarek, Finding Neverland
Thomas Newman, Lemony Snicket's "A Series of Unfortunate Events"
John Williams, Harry Potter And The Prisoner of Azkaban

BEST MUSIC (ORIGINAL SONG)

"Accidentally In Love" by Counting Crows, from Shrek 2
"Al Otro Lado Del Río" by Jorge Drexler, from The Motorcycle Diaries
"Believe" by Josh Groban, from The Polar Express
"Learn To Be Lonely" by Minnie Driver, from The Phantom of the Opera
"Look To Your Path (Vois Sur Ton Chemin)," from The Chorus

BEST SHORT FILM (ANIMATED)

Birthday Boy
Gopher Broke
Guard Dog
Lorenzo
Ryan

BEST SHORT FILM (LIVE ACTION)

Everything In This Country Must
Little Terrorist
7:35 In The Morning
Two Cars, One Night
Wasp

BEST SOUND EDITING

The Incredibles
The Polar Express
Spider-Man 2

BEST SOUND MIXING

The Aviator
The Incredibles
The Polar Express
Ray
Spider-Man 2

BEST VISUAL EFFECTS

Harry Potter And The Prisoner of Azkaban
I, Robot
Spider-Man 2

BEST SCREENPLAY (ADPATED)

Before Sunset

screenplay by Richard Linklater, Julie Delpy, and Ethan Hawke
story by Richard Linklater and Kim Krizan

Finding Neverland

screenplay by David Magee

Million Dollar Baby

screenplay by Paul Haggis

The Motorcycle Diaries

screenplay by José Rivera

Sideways

screenplay by Alexander Payne and Jim Taylor

BEST SCREENPLAY (ORIGINAL)

The Aviator
Eternal Sunshine of the Spotless Mind

screenplay by Charlie Kaufman
story by Charlie Kaufman, Michel Gondry, and Pierre Bismuth

Hotel Rwanda

written by Keir Pearson and Terry George

The Incredibles
Vera Drake
Jamie Foxx gets nominated for Best Actor and Best Supporting Actor? Good for him. And Uma Thurman getting the shaft for Best Actress blows hard.
But anyway, since I posted the Oscars, I might as well list the Razzie Awards nominees. Because if we celebrate film achievements, we should celebrate cinematic setbacks as well.
WORST PICTURE

Alexander
Catwoman
Superbabies: Baby Geniuses 2
Surviving Christmas
White Chicks

WORST ACTOR

Ben Affleck, Jersey Girl and Surviving Christmas
George W. Bush, Fahrenheit 9/11
Vin Diesel, The Chronicles of Riddick
Colin Farrell, Alexander
Ben Stiller, Along Came Polly, Anchorman, Dodgeball, Envy, and Starsky & Hutch

WORST ACTRESS

Halle Berry, Catwoman
Hilary Duff, A Cinderella Story and Raise Your Voice
Angelina Jolie, Alexander and Taking Lives
Mary-Kate & Ashley Olsen, New York Minute
Shawn & Marlon Wayans in drag, White Chicks

WORST SCREEN COUPLE

Ben Affleck and either Jennifer Lopez or Liv Tyler, Jersey Girl
Halle Berry and either Benjamin Bratt or Sharon Stone, Catwoman
George W. Bush and either Condoleeza Rice or his pet goat, Fahrenheit 9/11
Mary-Kate & Ashley Olsen, New York Minute
Shawn & Marlon Wayans, White Chicks

WORST SUPPORTING ACTRESS

Carmen Electra, Starsky & Hutch
Jennifer Lopez, Jersey Girl
Condoleeza Rice, Fahrenheit 9/11
Britney Spears, Fahrenheit 9/11
Sharon Stone, Catwoman

WORST SUPPORTING ACTOR

Val Kilmer, Alexander
Arnold Schwarzenegger, Around The World In 80 Days
Donald Rumsfeld, Fahrenheit 9/11
Jon Voight, Superbabies: Baby Geniuses 2
Lambert Wilson, Catwoman

WORST DIRECTOR

Bob Clark, Superbabies: Baby Geniuses 2
Renny Harlin and/or Paul Schrader, Exorcist: The Beginning
"Pitof," Catwoman
Oliver Stone, Alexander
Keenan Ivory Wayans, White Chicks

WORST REMAKE OR SEQUEL

Alien Vs, Predator
Anacondas: Hunt For The Blood Orchid
Around The World In 80 Days
Exorcist: The Beginning
Scooby Doo 2: Monsters Unleashed

WORST SCREENPLAY

Alexander

written by Oliver Stone, Christopher Kyle, and Laeta Kalogridis

Catwoman

written by Theresa Rebec, John Brancato, Michael Ferris, and John Rogers

Superbabies: Baby Geniuses 2

written by Steven Paul and Gregory Poppen

Surviving Christmas

written by Deborah Kaplan, Harry Elfont, Jeffrey Ventimilia, and Joshua Sternin

White Chicks

written by Keenan Ivory Wayans, Shawn Wayans, Marlon Wayans, Andy McElfresh, Michael Anthony Snowden, and Xavier Cook
That's all I've got. Sutton out.
---
Thursday, January 20, 2005; 4:53 p.m.
After being torn between seeing Darkness and Elektra, I flipped a coin and saw Elektra. Probably the best compliment I can give it is that it was better than Catwoman. At least Jennifer Garner learned how to use her weapons, as opposed to that lazy Halle Berry's CGI whip. Elektra wasn't much better than Catwoman, but it was still better. Two stars.
They rolled the trailer for the new Fantastic Four movie in front of Elektra, and it looks great. Am I the only one that thinks it should have been released on April 4, 2004? The "Fantastic Four: 4-4-04" marketing ploy was right there! It would have been a genius ad campaign, folks. No two ways about it. They also showed the trailer for Constantine, which also looks fun. I hadn't heard of Hellblazer prior to Constantine being made, so I'd be going into the movie with no preconceived notions about the characters or plot or anything. A totally clean slate. Maybe that could help with my enjoyment of the movie.
I'm working on a big update for "Sutton At The Movies." And I mean big. Maybe four or five movies if I get them done to my liking. I've got two done and one almost done, and I may have one or two more in me. I won't set an actual date to expect them, but don't worry, they're coming. And if you don't visit "Sutton At The Movies," why not? If Libby likes it, you should too!
Now that they've done sequels to I Love The 80s and I Love The 90s, I wonder if they'll get around to a sequel to I Love The 70s. Like I Love The 70s 2: The Sequel or something. Maybe they'll do I Love The 60s. VH1 has five years to kill before they can do I Love The 00s, but I wouldn't be surprised if they're not working on it right now. At this point, VH1 should just change their name to The Pop Culture Channel or something. The I Love The series and the stupid Top 40 Random Things We Feel Like Talking About thing have gone too far. It's insanity. Insanity!
Too much insanity, even for me. Sutton out.
---
Tuesday, January 18, 2005; 8:08 p.m.
My Inner Comic Book Geek and I need to have a long talk. Why? I was perusing Amazon.com for some comic book movies to add to my wish list. I've always liked comic book movies, and I figured that if I'm gonna get into comic books, I might as well have a collection of comic movies to go with it. Well, I ended up adding Supergirl to the list. Freaking Supergirl. At least the lead actress is cute, because otherwise I'd be pissed. It could be worse, though. I could have added Howard The Duck if it had been released on DVD. But once again, my Inner Movie Geek reminded me that I'm a glutton for the punishment that is bad B-movies. And he's right, Touché, Inner Movie Geek. You win this round.
Wow... just wow. I just saw a commercial for what I can only describe as Finding Nemo performed by Disney On Ice, I thought Finding Nemo was overrated in the first place, so why would I want to see ice skaters doing it?
I haven't done this in a while, so why don't we bring my Horror News segment into 2005? First up, 28 Days Later writer Alex Garland has been hired to scribe Saw 2, which will be released October 28 of this year. He better hurry up and start working, because Lions Gate has less than ten months to produce it if they're gonna make their release date. And if 2005 is anything like 2004, Halloween will be here before we know it.
Rob Zombie's House of 1000 Corpses sequel The Devil's Rejects has received an R rating, as opposed to the expected/dreaded NC-17. No word yet on what's been cut, but I've got money that says it'll eventually surface on DVD.
The DVD of The Grudge comes out February 1, but you might want to wait until later in the year. Fangoria Magazine reports that the unrated director's cut will be released later in the year. Why not just release both the unrated cut and the PG-13 cut on the same day? Or do like what New Line Cinema did with the Jason Goes To Hell DVD, and put them both on the same disc? These studios are so stupid, On the topic of The Grudge: Takashi Shimizu (who directed not only The Grudge, but the four Ju-On movies that The Grudge was based on) will return to direct Grudge 2.
According to Fangoria, both Lions Gate's High Tension and Dark Castle Entertainment's remake of House of Wax will be released June 3 unless one studio moves the movie to another date. I wonder which will do better: an NC-17 splatter movie from France that will get shown in maybe 100 theaters max (if that), or a remake of a Vincent Price movie that stars Elisha Cuthbert and Paris Hilton.
Okay, that's all I've got. Sutton out.
---
Sunday, January 9, 2005; 7:56 p.m.
Man, I had something I wanted to talk about, but I completely forgot what it was. Maybe it'll come back to me. Just maybe. One of these days... I think. It better, or I'll have to dropkick the memory part of my brain into the Stone Age.
I caught my first theatrical movie of 2005 Friday night when I caught a late showing of White Noise. All I can say is "wow. Just "wow." Sure, I couldn't stop myself from making Batman and Ghostbusters jokes during the movie, but White Noise is a total mind teaser. Michael Keaton is great, the concept is super-creepy, and fans of Unsolved Mysteries would definitely enjoy it. The only drawback is the weird ending that comes completely out of nowhere. It was up there with Saw in terms of sheer "where the hell did that come from?" value. I enjoyed the movie as a whole, but some parts weren't of the highest quality. It could be worse, though. Three and a half stars.
Did you know "embargo" spelled backwards is "o grab me"? You do now!
The extreme lack of strictly comic book stores around here makes me frowny. I don't want to drive 45 minutes to a bookstore to get comics when there should be a store around here that sells just them. If one exists, I don't know of it. I just want some comics, is that so wrong? I feel so left out. I might just have to find a way to get subscribed to some of these comics. Or just find a big sack o' cash and score the graphic novels on my Amazon.com wish list. As long as I get some comic-y goodness, everything will be A-OK. My inner comic book geek is shouting in my ear, "It's about time you let me come out to play, loser." And you know what? He's right. I wouldn't be happy if I had to live in the shadow of Inner Movie Geek and Inner Pro Wrestling Geek either. Maybe they can all co-exist as one now. If not, I'll have to lock them all in the Thunderdome. Three inner geeks enter, one walks out. And it'll be brutal, folks. Imagine a big cross between Comedy Central's old Beat The Geeks game show and Being John Malkovich, with heaping helpings of Celebrity Deathmatch and Mad Max Beyond Thunderdome, Be there, or be square,
Not much else to say, Sutton out,
---
Monday, January 3, 2005; 11:26 p.m.
Welcome back to the blog, where we're live in '05 and hoping you readers had a safe and happy New Year's celebration. Am I the only one who thinks 2004 just flew by? It seems like 2004 just started yesterday, and now it's already 2005. Like the saying goes, time flies. And 2004 must have had some big wings, because it flew through the sands of time pretty quickly. And the 2004 archives can be read at the link above, if you're wondering where they went.
I think some of you readers are starting to rub off on me, What makes me say that? I'm starting to develop an attraction to comic books. I got into Buffy and Smallville because of you guys, and comics are next. I've been a fan of Batman for a long time, even if I've never really been into comics, and I'd love to get my hands on "Batman: Year One" or "The Dark Knight Returns." I've started really getting into The Punisher lately too, and I've heard the "Welcome Back Frank" series is great, so I wouldn't mind coming across that, What sucks is that I don't know where the nearest comic book store is, and I don't have the cash right now to buy them anyway. One of these days, though... they will be mine.
All the Smallville I've been watching lately makes me want a red Kryptonite ring, Somebody find me some red Kryptonite! Now! Even if a Smallville High School class ring would be really geeky, it'd be neat to own one.
Nothing left to say, Sutton out.
---
Saturday, January 1, 2005; 12:00 a.m.
Happy New Year! Whoooooo!
2004 out!
---