KILL BILL: VOLUME TWO (2004)
Director: Quentin Tarantino
We've all seen movies that end in cliffhangers, endings that are essentially advertisements for the next chapter. It happened with the second and third installments of the Back To The Future and Matrix trilogies, and it happened with Quentin Tarantino's would-be epic Kill Bill. While the Back To The Future and Matrix cliffhangers were intended to be two separate movies from the start, Kill Bill was different. Believing that nobody would want to sit through a four-hour movie, Miramax had Tarantino chop Kill Bill in half, and now we have Kill Bill: Volume One and Kill Bill: Volume Two. I've already reviewed Volume One, so let's get to Volume Two.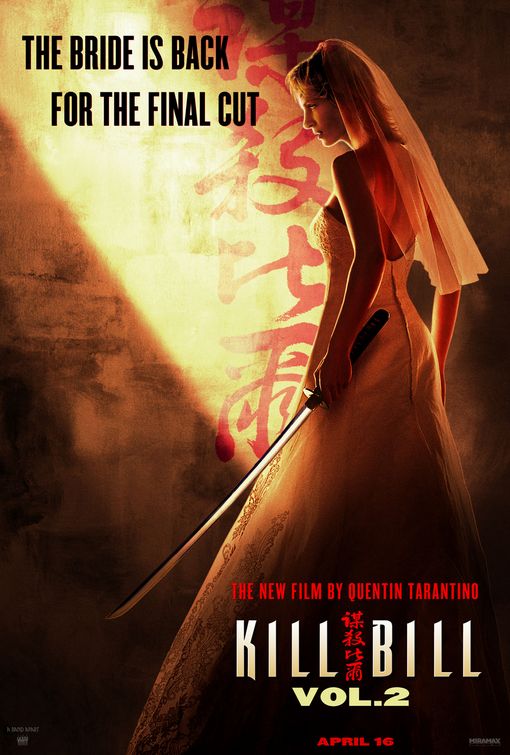 In Volume One, we learn that a group of assassins had crashed a wedding, killing everyone but the pregnant bride (Uma Thurman), who was left in a coma. She awakens four years later, missing her baby and swearing revenge on the five people who attempted to take her life. The bride crossed two names off her hit list in Volume One, and in Volume Two, she hunts the other three: Elle Driver (Daryl Hannah), Budd (Michael Madsen), and her main target, Bill (David Carradine).
Along with the bride's vengeance, we're also treated to the back story. Via flashbacks, we see what exactly took place at the wedding four years earlier. We also see how the bride prepared for her life as a mercenary-for hire, as Bill delivers her to Pai Mei (Gordon Liu), a harsh sensei who hates white people, Americans, and women. Flashbacks also show us how Elle lost her eye, and how and why the bride decided to abandon her life as an assassin.
Like I mentioned in my review for Volume One, Quentin Tarantino once said Volume One was "kill, kill, kill," and Volume Two was "Bill, Bill, Bill." He was right. While Volume One features two hours of action and violence, Volume Two centers around the intricacies of the relationship between Bill and the bride (whose real name we learn is during Volume Two). Despite being one long epic, the two volumes are quite different. Volume One is a high-speed kung fu flick, while Volume Two is a slow-moving spaghetti western, reminiscent of the work of Sergio Leone. In fact, some musical cues from Leone's classic A Fistful of Dollars appear in Volume Two.
While I didn't like Volume Two at first, seeing Volume One allowed it to grow on me to the point where I actually prefer Volume Two. First off, I really liked the cast, and the way they portrayed their characters. Uma Thurman and David Carradine were absolutely brilliant as the revenge-fueled bride and her intended target Bill, while Daryl Hannah was good as Elle Driver and I really liked Michael Madsen as Budd. The fight choreography is also good, despite the lack of actual fights. The final confrontation between the bride and Elle is a sight to behold, as the two practically tear down Budd's run-down shanty of a trailer. Meanwhile The RZA's score for Volume Two is possibly better than Volume One's. No stranger to the "karate western" genre (having scored Forest Whitaker's 1999 movie Ghost Dog: The Way of the Samurai), The RZA's score gives the movie the same epic feel as Volume One.
Finally, Tarantino's direction is still wonderful. A sequence in which Budd buries the bride alive is proof of that. Tarantino plays with various styles in the scene, switching between black-and-white and color. He also plays up the claustrophobic confines of the bride's casket, shrinking the screen down from the 2.35:1 widescreen aspect ratio to a smaller 4:3 ratio. Tarantino's script is also excellent. Budd giving the bride the choice of either a flashlight or a shot of Mace is both cringe-worthy and humorous, while a scene where Elle details the dangers of black mamba snakes is wickedly funny. Tarantino's crowning achievement in the dialogue department comes near the end of the movie, when Bill gives his comic book monologue.
I originally gave Volume Two three stars, but after having time to ruminate on it, I'll give it four and a half. However, it should be watched back-to-back with Volume One, or it doesn't have the proper impact that it should. As I said in my review for Volume One, I hope that Miramax will eventually release Kill Bill in its full uncut form. But until them, Kill Bill will be two excellent films instead of one.
Final Rating: ****½
---