SAW IV (2007)
Director: Darren Lynn Bousman
One of the horror genre's most famous elements is the unstoppable villain that cannot seem to be defeated. And similarly, once a horror movie franchise gets rolling, there's very little anyone can do to slow it down. It was all the rage with horror flicks in the '80s, as famous franchises such as Halloween, Friday the 13th, A Nightmare on Elm Street, and Hellraiser all have somewhere between seven and ten sequels. Though while that trend seems to have cooled somewhat since the turn of the twenty-first century, one modern horror franchise seems to have its black heart set on matching the long running sagas that came before it. Released on the weekend before Halloween in 2004, Saw became a sleeper hit and inspired distributor Lions Gate Films and production studio Twisted Pictures to keep the blood flowing by releasing a new sequel every Halloween. But while the story of Jigsaw seemed to have ended with the gory conclusion of Saw III in 2006, the high box office grosses ensured that we'd somehow see a fourth movie. And that's exactly what we got the following Halloween with Saw IV. Perhaps the most ambitious of the four films released at the time of this writing, Saw IV might not be as good as the trilogy proceeding it, but it's not too bad at all.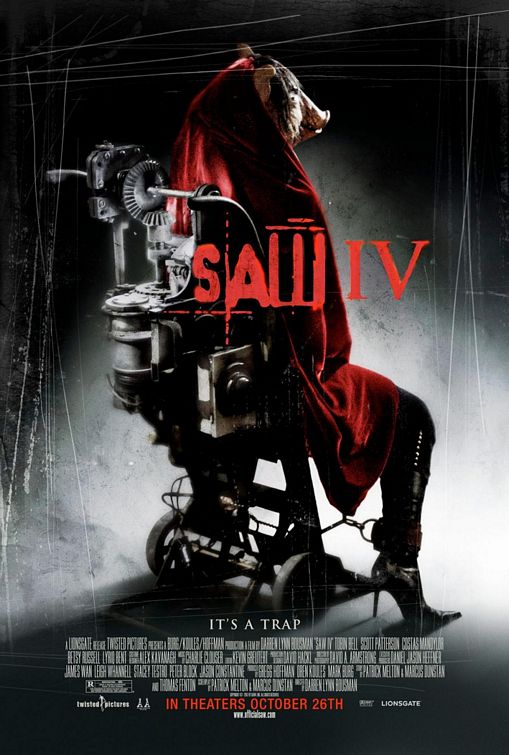 John "Jigsaw" Kramer (Tobin Bell) and his troubled apprentice Amanda Young (Shawnee Smith) are dead. But in spite of this setback, Jigsaw has gone to great lengths to ensure that his legacy will stay alive. To do so, he has focused his attention on Daniel Rigg (Lyriq Bent), a SWAT team commander whose impetuous, somewhat obsessive nature with his job often puts himself and others in harm's way. Jigsaw has somehow managed to manipulate Rigg into a series of tests organized into a series of tests resembling a violent scavenger hunt, giving him ninety minutes to see it to its completion. Following the bloody trail left behind by these tests are FBI agents Peter Strahm (Scott Patterson) and Lindsey Perez (Athena Karkanis), whose search for a solution pulls them deeper into the pile of skeletons hidden in Jigsaw's closet.
I said in the beginning of this review that Saw IV is the most ambitious of the franchise thus far. It is, but it's also the most convoluted. There's at least three stories and subplots going on at once, which makes it really hard to keep track of things if you're not paying absolutely full attention. I'm surprised I got that plot synopsis up there as streamlined and as spoiler-free as I did, because I felt like I needed Cliff's Notes or a flow chart or something to properly put it together. But though it may be somewhat hard to follow, I still felt that Saw IV brought a lot to the table when it comes to creating a bigger, deeper universe and adding layers to the movies that came before it.
First up is the direction by Darren Lynn Bousman. Bousman is no stranger to the franchise, having directed all but the first movie, so he knows exactly what he's doing with this one. You might think that directing three sequels three years in a row would cause him to become complacent, but Bousman keeps things exciting with tight editing and well-done cinematography from fellow franchise mainstay David Armstrong. The movie has all the visual hallmarks you'd expect, and though Bousman doesn't really try anything different or new, that's not completely bad. It also helps that his work was bolstered by the fantastic score once again composed by Charlie Clouser. His industrial-infused music has added a lot to the Saw franchise, and this movie is no different. His use of certain recurring elements — as well as the piece of music that has become the Saw theme song — gives the movie a sense of familiarity, and keeps the tension high throughout the proceedings depicted onscreen.
Next is the screenplay, written by Patrick Melton and Marcus Dunstan. Notable for being the first Saw movie not written by series co-creator Leigh Whannell, the script may not be as strong as it could be. But when you make sense of the three concurrent storylines, I felt that it held up. Melton and Dunstan have also obviously seen all of the Saw movies, because if anything can be said about their script, it's that it has a keen eye for continuity within the franchise. Little references to characters and events from the first three movies are peppered throughout Saw IV, to the point that you'd probably be best off watching all three of the other movies before you watch this one.
Aside from the continuity, another thing Melton and Dunstan have done is go deeper into how Jigsaw came to be. I've often complained that giving away too much of a villain's history demystifies them and makes them less scary. Though Jigsaw's origin story had been hinted at in what came before, Melton and Dunstan fill in the gaps and complete Jigsaw's turn from a monster into a tragic figure. In the series of flashbacks that accomplish this, we see him not as Jigsaw, but as John Kramer, a man with a wife, a job, and a baby on the way. It isn't until he is stricken with a rash of extremely bad luck that we the roots of his Jigsaw persona being laid. Melton and Dunstan handle this extremely well, making us truly care about Jigsaw and those in his life.
Lastly is the cast, all of whom I felt did their best. Lyriq Bent's role may not have benefited from the strongest writing, but he still does a decent job. He isn't perfect, but he's good enough. The same can be said for Scott Patterson and Athena Karkanis, whose undeveloped characters don't stop them from handing in fine performances. There is some gold amidst the silver, though. Billy Otis is sleazy yet entertaining as the man who would become Jigsaw's first victim, and Betsy Russell is very good as Jigsaw's ex-wife. Her character may only be a supporting one, but Russell's performance helps to make the character even more important. And as always, the best performance comes from Tobin Bell as Jigsaw. Jigsaw evolves from being likeable to sympathetic to frightening, and Bell perfectly hits all the right notes. If there's at least one constant in the Saw franchise, it's that Tobin Bell is going to be great.
The really bad thing about Saw IV is that it feels less like a true sequel and more like a jumping-off point for a new trilogy. The fifth and sixth Saw movies have yet to be released at the time of this writing, so I'm sure I'll appreciate Saw IV more once I see them. But right now, it feels like watching only half a story. Something is missing from this movie, which really hurts it. And because of that, I'm going to have to give it a "thumbs-in-the-middle" with three stars. But don't let that fool you. It might be the weakest of the series thus far, but it's still an intriguing watch. Just make sure that you've taken that Saw refresher course first.
Final Rating: ***
---